It's time for our Tri-monthly NorCal CRX meet!!!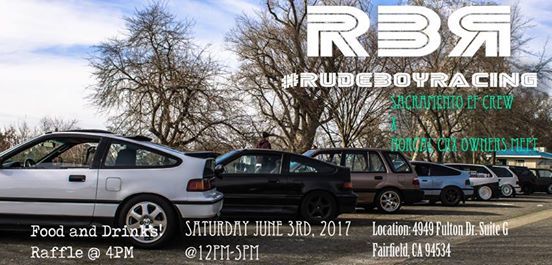 Disclaimer: Please read everything and consistently check back this post for more updates!
We are so honored and so humbled to announce the next meet to be at Rude Boy Racing! With no further ado, we have been granted the privilege to host our next meet here. This is something we have never done before and we are extremely excited.. We are looking to have a big turnout to support Rude Boy Racing!
What:
Rude Boy Racing x NorCalCRXOwners x Sacramento EF Crew Meet
When:
Saturday, June 3, 2017 12pm-5pm (Raffle @4pm)
Where:
Rude Boy Racing (4949 Fulton Dr, Ste G
Fairfield, California, CA 94534)
Vehicles:
EF ( Hatchback, Sedan, CR-X, Wagon) Only!
Raffle Information:
Raffle will be at 4pm
Raffle Tickets: One ticket per EF car. No exceptions!
Caravan Information
Sacramento:
Arco gas station
847 Harbor Blvd
West Sacramento, CA 95691
Time: 9:30-10am
Planning to leave around 10am
NorCal CRX Owners:
Where: 1440 Fitzgerald Dr, Pinole, CA 94564 (Starbucks)
Time: Meet at 11am
Departure @ 11:30am
Simple guidelines for the meet:
1.
This is a meet, not a car show. Don't worry about what condition your car is in. Just come out and have some fun with other CRX owners.
2.No dangerous or offensive behavior will be tolerated.
3.No burnouts/peelouts or drifting.
4.Absolutely NO alcohol and NO drugs anywhere at or around the car meet
5.No street racing at or near the car meet.
6.The car meet is NOT a place for loud stereos or engine revving. Keep the stereos at a level down please
7.Pick up your trash, don't leave the plaza or the parking lot in a mess.
8. Please watch your speed as you enter and exit the parking lot.
Attendee list:
1.
hyperkick
(Chad)