Discussion Starter
·
#1
·
First off, let me explain some basics of 02 sensors.
How do they work? What do they do?
An 02 sensor, is a measuring device placed in the exhaust trajectory of the engine.
The engine is heavily dependent on the correct mixture of fuel. Too much injected fuel is called a "rich" mixture. Too little is called a "lean" mixture.
Unlike carburetors, a fuel injected engine depends on a computer system to control the amount of fuel that is injected. Under certain circumstances, this mixture is fixed. This is called open loop, due to the fact that it 'ignores' the sensor readings. "opening up" the normal operating loop. Under most normal operating circumstances, our computer relies on the 02 sensor readings, closed loop, to make minor adjustments to the mixture, based on the readings.
The readings are temperature based in nature. This temperature will manipulate the electrical resistance in the sensor, on which the ECU (computer) will base it's calculations.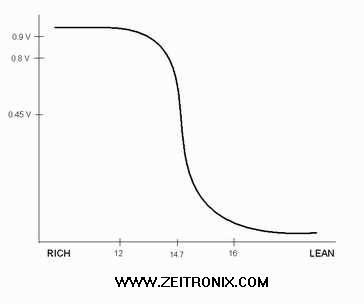 To test if a sensor is faulty, use a multimeter to measure the sensor lead while the engine is running. Use a proper ground.
A proper sensor will give you a reading between 0.3 and 0.7 volts.
Readings above or below this may indicate a problem with the mixture. Although the original honda sensors are not very accurate.
Proper tuning is done with a wideband 02 sensor. While I am not going into specifics here, wideband 02 sensors use a vastly wider voltage range, and a linear output. Instead of the narrow, parabolic output of the OEM sensor, which makes tuning the engine vastly more predictable.
Most Honda engines use a single 02 sensor, with a single wire.
This is true for all D-series engines in 4th gen civics and CRX'es. (If a sensor was utilized at all)
However, using B-series engines makes things slightly more complex.
I am going to concentrate on the pre-obd, or OBD-0 electronics. Meaning computers used before 1992.
There are 2 distinctly different 02 setups for the obd-0 (pre-obd) crx and civic platforms using the B16A or the B16A1 engine.
The PM3 and PW0-000 (JDM) and PW0-X00 (EDM) respectably use different designs.
The JDM versions of both ECU's which have a different ID codes to tell them apart.
The JDM versions of the ECU's use the in-line consecutive design, using dual 02 sensors. One sensor is positioned before, and one after the catalytic converter.
Each sensor will measure at all 4 firing instances, measuring a certain resistance between them. An algorithm connected to an in-dash warning light will tell if the catalytic converter is faulty.
Removing the catalytic converter will prompt a CEL and engine error code respective to that sensor.
(JDM B16A downpipe, showing the pre-cat sensor)
The EDM versions work different entirely.
The 02 sensors are paired up along side, dividing the runners of the headers in pairs as well.
The runners are separated as the inner, and outer pairs, placing the sensors either in cylinder pairs 1+4 and 2+3.
The ECU readings will alternate between each pair, reading only the relevant sensor.
So swapping them around will cause both sensors to get false readings, throw a CEL and the corresponding error codes.
(EDM B16A1 exhaust manifold, showing 2 o2 sensors)
The most common causes for faulty readings, besides faulty sensors is header design.
Most header designs on B-series engines, make use of a single 02 sensor location. Reading only 2 outlets.
Most common is that the only placement is on the runners 1+4.
While in the best case, this means you are only measuring half of your cylinders, this also means the EDM ecu will throw a code, because it's only getting half of it's required readings.
A simple fix is tapping a hole in header tube merger 2+3.
(An after market stainless-steel exhaust manifold, modified to use dual o2 sensors)
Another is placement.
While exhaust gasses travel down the exhaust line, they cool down.
The 02 sensor readings are temperature dependent. Thus getting a faulty reading.
While some of the JDM ecu's use a heated core to resolve this issue. No OBD0 EDM ecu's are available with this feature.
A simple solution to this would be to manually hook up a heated sensor to a switchable power source.
(An EDM B16A1 engine, modified to use a 4-were pre-heated o2 sensor, taken from an OBD1 engine)
Yet another is material.
Stainless steel does not conduct heat and electricity as does normal steel.
This can greatly influence 02 sensor readings.
Using an external ground, and heated core sensor can resolve this issue.
o2 sensor related engine error codes:
01 = Lambda o2 sensor #1 defective (Orange wire pin#
02 = Lambda o2 sensor #2 defective (White wire pin #
42 = Lambda 2 - defect in heating system (OBD1 engines)
43 = Fuel Supply System - Defective fuel supply, or o2 sensor #1
44 = Fuel Supply System - Defective fuel supply, or o2 sensor #2
45 = Mixture abnormality. Too lean/rich.