Discussion Starter
·
#1
·
88-91 USDM CRX differences
General Specs and Info
The 2nd gen CRX ran from 88-91 and came in 3 different trim levels,
the Hf, Dx and SI.
Trim Levels:
Hf, "Dx" and SI. All came with a variant of the d series SOHC motor.
Hf having the lightest curb weight, lowest hp, but best fuel economy. and available only as a 5spd.
Referred to as "Dx" model, which is unbadged & is the middle of the road trim. Available as an auto or 5spd.
The SI is the highest trim level, has the best motor, the most options and was available only as a 5spd.
USDM motors and ECU's
:
88-91 HF
D15B6, 1.5 8V, SOHC MPFI(Multi-port Fuel Injection), 62hp
PM8 ECU
Uses a slightly smaller radiator compared to the Dx/Si, about 3/4 the size.
88-91 "DX"
D15B2, 1.5 16V SOHC DPFI(Dual-port Fuel Injection), 92hp
PM5 ECU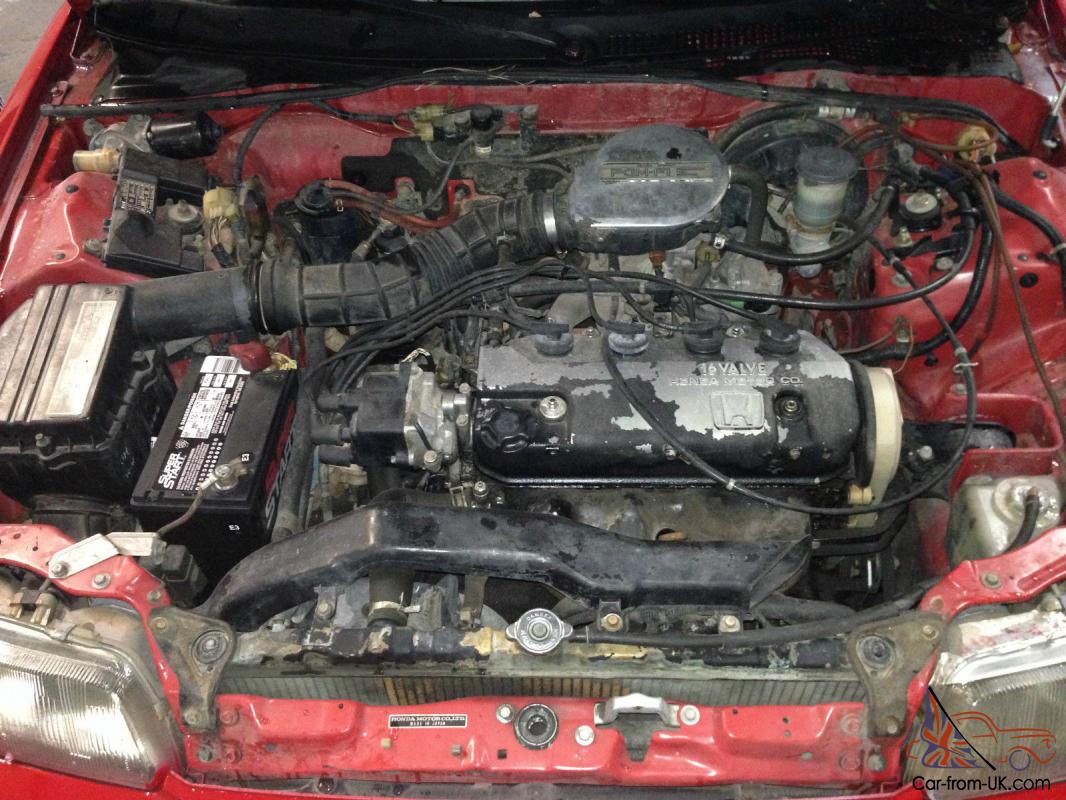 88-91 Si
D16A6, 1.6 16V SOHC MPFI, 105-108hp
PM6 ECU
Transmission info:
https://crxcommunity.com/viewtopic.php?t=246
Curb Weights
1988 CRX HF 1819lbs.
1988 CRX DX 1922lbs.
1988 CRX Si 2011lbs.
1989 CRX HF 1834lbs.
1989 CRX DX 2048lbs.
1989 CRX Si 2138lbs.
1990 CRX HF 1967lbs.
1990 CRX DX 2103lbs.
1990 CRX Si 2174lbs.
1991 CRX HF 1967lbs.
1991 CRX DX 2103lbs.
1991 CRX Si 2174lbs
-90-91's are the heaviest, the '89 is lighter, and the '88 is the lightest. In each year the Hf is the lightest model, with the Dx in the middle and the Si weighing the most.
The HF is the fuel economy model, has the lightest curb weight and was only available in the US.
-45-50mpg
-only came as a 5spd manual, tall gearing for fuel economy.
-no rear wiper
-no passenger mirror
-lightweight 13 x 4.5 inch wheels
-no factory clock
-2 spoke steering wheel (Dx and Si have a 3 spoke wheel)
- 10.6 US gal. tank /8.8 Imperial Gal.
-"HF" designation on the rear passenger side, next to the hatch
The "Dx" model. Unofficially designated but could be considered next level down from Si.
-no badging, no designation of model on car
-30-40mpg
-both auto and manuals were avail.
-rear wiper available on 89-91's, '88's did not have them.
-passenger mirror
-11.9 US gal. fuel tank / 9.9 Imperial gal.
The Si is the top of the line US model.
-All Si's have "ED9" in the VIN
-30-40mpg
-No autos, only came as a 5spd.
-rear wiper, clock and passenger mirror standard
-black/gray interior only
-11.9 US gal fuel tank / 9.9 Imperial Gal
-All Si's received a factory powered, metal panel sunroof.
-Si designation on rear passenger side
The '88 Si rear decal is a flat sticker.
The 89-91 Si rear badge is a raised plastic decal.
VIN ID: What model do I really have?
If it starts JHMED836 it's an HF, JHMED835 is DX Manual, JHMED845 is DX auto, and JHMED936 is an Si.
Interior
*Interior is not model specific, unless it's the SI, which only came available in black/grey.
The Hf and Dx models came in either black w/grey or blue interior.
The interior colors were based on the exterior color:
Superior Blue Metallic and white had the blue interior, the other colors had black/grey interior.
-88-89 black interior cars had NH83L "Off-black" interior
-90-91 black interior cars had NH167L "Graphite Black" interior
-All '88 models and the '89 HF have pillar mounted seat belts.
-The '89 Si/Dx and all 90/91's have door mounted belts.
Federal US mandates in 1990 required US cars to have a "passive restraint seat belt system." Honda mounted the seat belts on the doors instead of the "B" pillar for the 1989 standard(Dx) and SI models, which shortened the glass, and increased the width of the "door sash" trim.
-88/89 CRX's don't have side impact beams in the doors, the 90-91 do.
Radio console/storage pocket/cig lighter/ashtray
(Optional EQ shown)
88-91 Crx Si has light up ring around cig lighter, Dx and HF do not.
88/89 Gauge cluster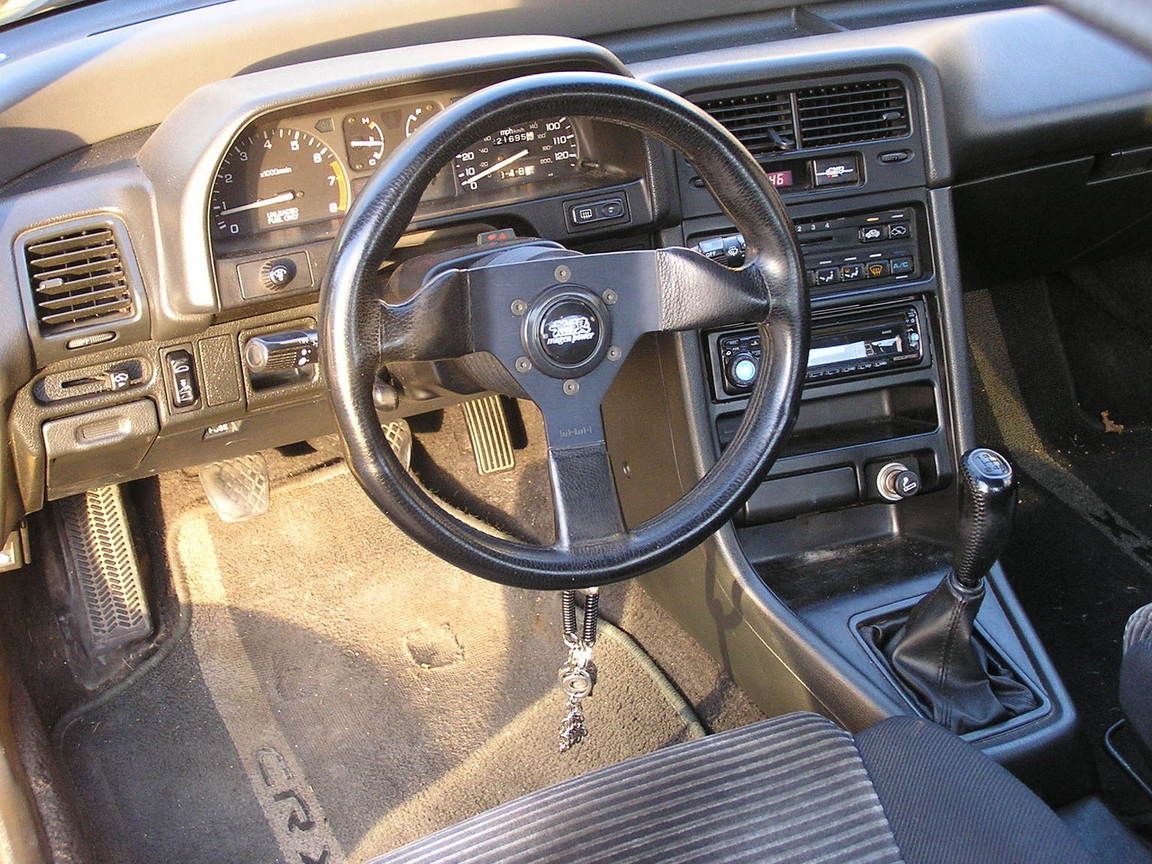 90/91 Cluster
Other than the model year differences, the Dx and Si share the same cluster.
HF clusters have factory shift light and 5k redline.
-90/91 have a rounded instrument cluster and cover while the 88-89 is more squarish
-88/89 cluster covers also have different switches mounted in them compared to the 90/91's.
-88/89 has a cluster dimmer knob on the left and a large rear defroster button on the right. Hazard/flasher button is on the steering column.
*90/91 has the hazard/flasher switch on the right and dimmer wheel and rear defrost on the left.
Comparison:
88/89 cluster on top
90/91 cluster on the bottom
Gauge clusters can be swapped between 88/89 and 90/91, but needs some modification to work;
88-89 HF cluster wiring will be different however, so the following only applies to DX/SI models.
downest said:

Here are the pin-outs for the 88-89 and the 90-91 cluster, this should help anyone wanting to swap clusters between cars. Remember that you also need the corresponding cluster shroud/cover, as well as defroster, hazard, and dimmer switches.

88-89 Cluster

90-91 Cluster
-90-91's have a red seat belt warning light built into the dome light.
-88/89's have the hazard light switch on the top of the steering column, 90-91's have it mounted on the dash.
The HF model did not come with a cargo divider or trunk cargo cover.
-The cargo lock box has the trunk carpet attached to it.
HF cargo box
-HF side plastics do not have the triangular cargo cover supports in the rear.
-HF rear panels also DO NOT have the cargo cover clips either.
-HF rear speaker covers do not have a hole in them to accommodate the cargo divider latch.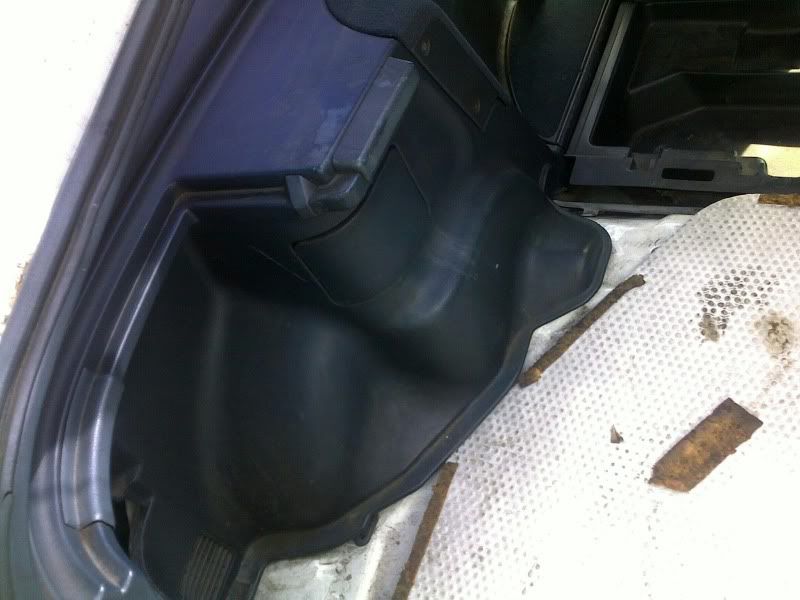 -Dx/Si rear speaker covers have a hole in them for the cargo divider latch.
-Si glovebox is cloth/felt lined, "DX" and HF do not have this.
-Dx/Si box came with the extra trunk privacy covers (cargo divider and cover), the lock box does not have the trunk carpet attached.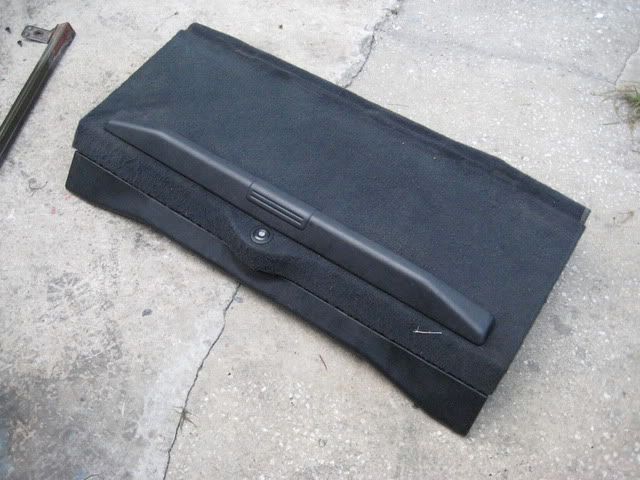 The trunk carpet is then attached to the cargo divider.
Also has the rear cargo cover supports
Floor mats, available in two colors only, black or blue, white stripe w/felt Crx lettering.
1988 mats are slightly longer than 89-91.
Made shorter to prevent possible interference with the gas pedal.
'88 mats in black but missing letters.
89-91 mats in black
Seats:
-88/89 Si seats have a white pinstripe.
-90-91 Si seats have a red pinstripe.
-ALL '88 models & the '89 Hf have pillar mounted seatbelts
-'89 Si's, Dx's and ALL 90-91 CRX's have door mounted belts.
Models with door mounted belts have a wider pillar at the end of the door to accommodate the belt mount, this also means that the glass is and inch or so shorter.
The seats from ANY '88 CRX or the '89 Hf will not interchange and swap into the '89 Si, Dx or ANY 90-91 CRX and vise verse.
'All trim model 88's and the '89 Hf seats can interchange with each other.
The '89 Si, Dx and ALL 90-91 seats can interchange with each other.
Basically if your car has door mounted seat belts, seats from a CRX with pillar mounted seat belts will not bolt right up.
Hf seats:
-Dx and Si share the same style seat, the Si seats being different with style of fabric and different headrests.
Dx seats
88-89 Si seats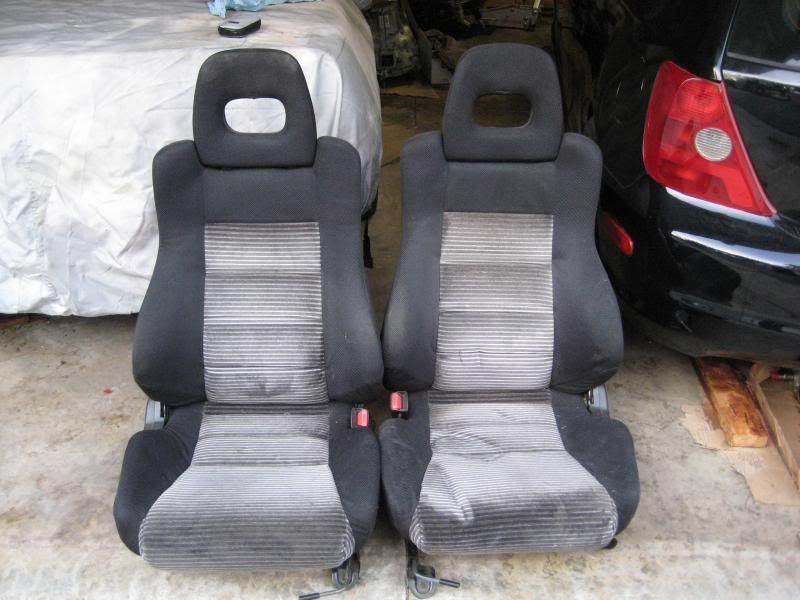 90-91 Si seats
-'88 door panels have a storage pocket
- All Si's have the fabric inlay on the door panels with "CRX" stitched in them.
-90-91 Si's had suede flip down mirrors (on the side that hits the roof while the 88-89's had vinyl
Exterior
-All 88-91 Si's have a Non glass, metal panel, power sunroof.
-All 88-91 Si's come with a rear wiper standard.
Hf's did not come with a rear wiper.
-88/89 door moldings are taller and flatter, the 90-91 ones are shorter but stick out further and have a beveled edge to them.
*These do swap over,interchange without any gap, meaning you can use either style 88/89 to 90/91 or vice verse.
88/89 molding
90/91 molding
All 1988 models and the '89 HF have pillar mount belts, therefore taller and slimmer b-pillar trim.

The 1989 Si/Dx and all 1990-91 models have door mounted belts, therefore wider and shorter b-pillar trim.
'89 Si door panels do not have piping around the fabric section with the CRX logo on it, as 90-91 Si panels do.
90/91 Si panels
88-91
front
splash guards are the same.
88-89
rear
splash guards are SLIGHTLY different than 90-91's and do not directly swap over to fit correctly.
88/89 set
Rear comparison
90-91(part # 08P09-SH2-100) on the left and 88-89(part # 08156-SH2-10AH) on the right.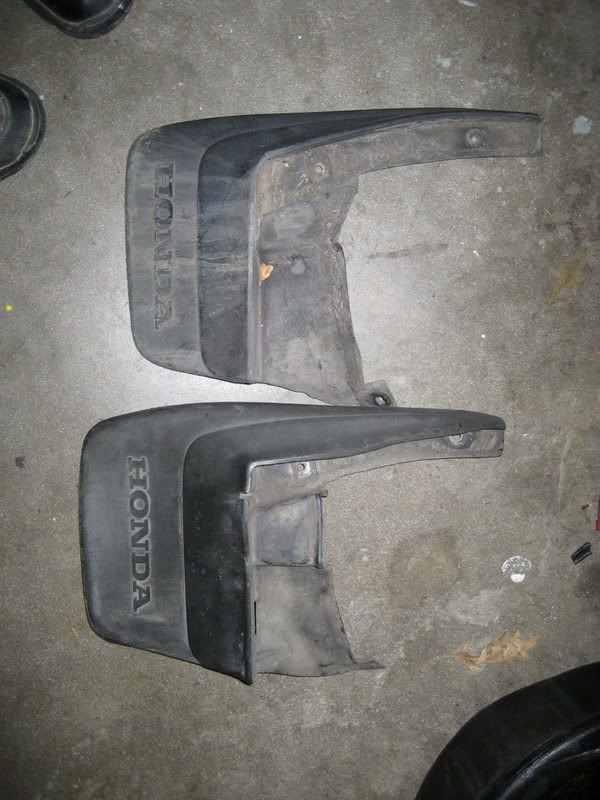 -88/89 headlight brackets differ from 90/91 but can be swapped and interchanged.
-The '91 headlights have a vent in them to help prevent moisture buildup.
-90/91 rear lights have a 1/2 inch black edge all the way around them, the 88/89 do not.
-90/91 have have fake air ducts molded into the front bumper
-88/89 have slightly different front and rear bumpers than the 90-91
-90-91 bumper mounted turn signals are clear with amber inserts in them, the 88-89 lenses are just solid amber and shorter in length.
-88-89 corner mounted parking lights have 2 mounting screws visible that mount to the fender while the 90-91 ones are attached by tabs with one screw to the headlight frame.
88/89 Corner lights
90/91 Corner lights
The 88/89 headlight brackets differ from 90/91 because of the redesigned corner lights.
See the difference here;
90/91 on top, 88/89 on bottom.
-90/91 have larger reverse lights, shaped differently and are set further to the sides than the 88/89
88/89 front lips differ from 90/91.
HF and Si came with front lips, the Dx model did not.
88/89 Front bumper
-smaller bumper/turn signal lights
-wider molding
-no fake "air duct" openings under the bumper lights
90/91 Front bumper
-Larger bumper lights
-thinner molding
-"air duct" openings under bumper lights
88/89 CRX Rear - Thicker molding, no flaring at the bottom
90/91 CRX Rear - Thinner molding and slight flaring out at the bottom of the bumper to give the look of a lip.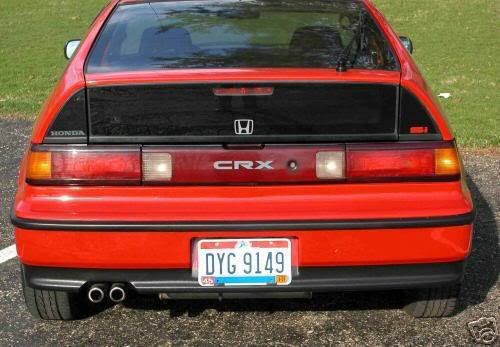 HF front bulkhead: HF's have "flat wings" below where the bumper support mounts. Dx/Si does not have these.
Dx/SI support pictured
HF support mounted.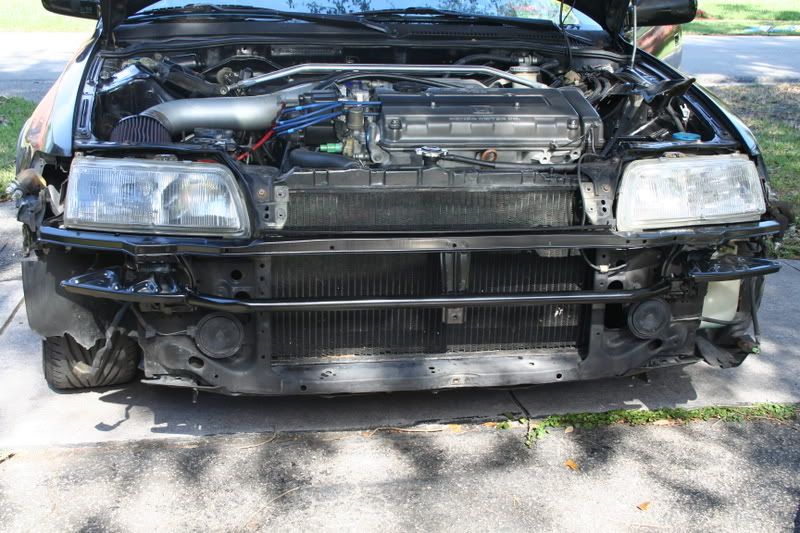 Front bumper supports - Dx/Si on top, Hf on bottom,
Rear bumper supports - Hf on top, Dx/Si at the bottom.
For comparison purposes:
90/91 on the left, 88/89 on the right.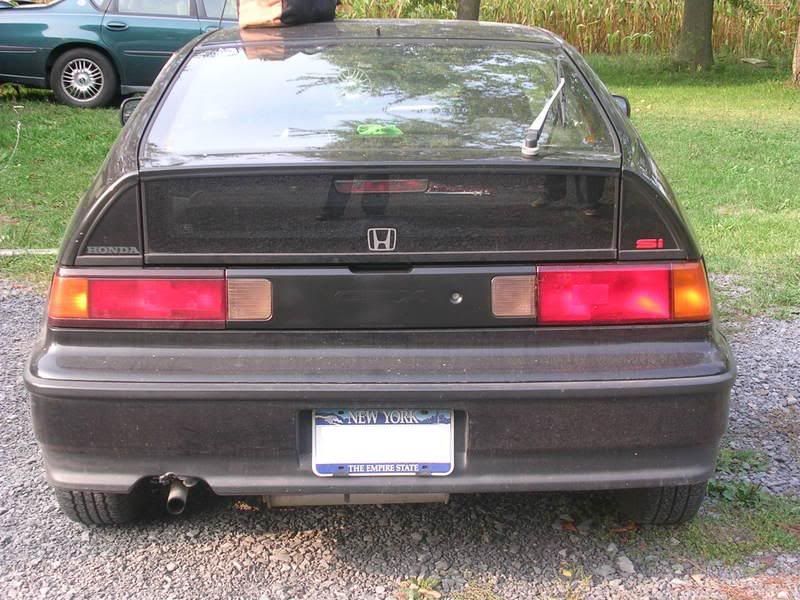 The taillights can swap over and interchange between 88/89 and 90/91, but the plugs are different. You need to keep and use the bulb harness that matches the year of your car in order for it to work.
Suspension/Motor/Transmission/Misc.
-All 88's & 89's have rear drum brakes as do 90-91 NON SI CRX's.
-90-91 CRX Si's are the only ones that came with rear disc
-'88 manual transmissions have 21 spline input shaft, the 89-91's have a 20 spline shaft
-90-91 clutch is 212mm, the '89 is 200mm and the '88 has 190mm.
-88 does not have a clutch safety switch. Which means it will start without having to press the clutch in.
-88 Si models have 105hp, the 89-91's have 108hp due to different ecu settings and possibly a slightly different cam.
-The '88 models have a unique body mount point for the compensator arms, and stamped lower control arms instead of cast, which accept eye-bolt rear shocks instead of the fork type. The rear lower control arms and the rear shocks have different mounting points. The trailing arms however, are the same.
-'88 uses slightly different sized front shocks.
'88 LCA
89-91 LCA
89-91's are all the same and interchange.
-The Si's have a rear sway bar, and the Dx/HF don't. The HF also has a smaller front sway bar than the Dx/Si.
The HF front sway bar is 17.2mm while the Dx/Si have 18mm bars in front. The Si rear sway bar is 15mm.
-The '88 ecu has a different internal design than the 89-91 but the inputs and outputs are the same and ecu's can be swapped between years.
-late 89's and 90-91's had the EPROM ECU (a lot easier for chipping)
-The '88 cam indexing is the same for all the engines, 89-91 Si's have indexing that is different from the other engines.
Wheels & brakes:
-88-89 Si, 88-91 DX have Akebono style front brake calipers. Pistons are 50.8mm in diameter and get paired with the small 13/16" Master Cylinder. Front Rotors 231mm x 17mm.
-90-91 Si have Nissin style front brake calipers. Pistons are 54mm and get paired with a larger 7/8" Master Cylinder. Front rotors are also slightly larger at 242mm x 19mm. Proportioning valve is different too.[/quote]
-90-91's Crx Si wheels differ from 88-89's. (90-91 are known as Teardrops or Swirlies and 88-89's are known as Sawblades. Both
styles are 14" rims.
88-89 "Sawblades"
90-91 "Teardrops" or "Swirlies"
The center caps also differ and cannot be interchanged.
88-89 have a larger diameter(157mm) and are more flat while the 90-91's are smaller(142mm) and have a slight bulge to them.
88-91 HF wheels
Original H-T thread:
http://www.honda-tech.com/zerothread?id=650219