Discussion Starter
·
#1
·
So a night ending early lets me think about the years goin by. I thought maybe I should post on the community boards. Today (thursday) is my birthday and im just happy because it is. Just in general not over anything in specific.
So with my constant absenteeism on the boards, thinking tonight makes me want to post about whats up.
My crx's engine threw a rod not too long ago and an engine was promised by certain parental figures. Not because it was an obligation but because they knew I had gotten a job and I needed transportation. Yet the quote "out of site, out of mind" comes up when I think about the rex and the crx community. Since the rod I have been driving other cars like the mr2 and miata again. Not too much fun and I do miss my crx dearly. Im looking to do a b16a swap and hopefully it will be bought soon.
With that said thats enough reason to fall off the face of the earth, but with 2 job promotions within a 3 month period I have also been busy. I have been running stores alone and I just opened a new one about a week ago. I really should be doing school but thought I could make some money first.
That money went to random crap like ipods, nintendo ds's, playstations. Stuff ive been wanting for a while. Stuff I really dont need.
Although I did buy something thats making me quite happy.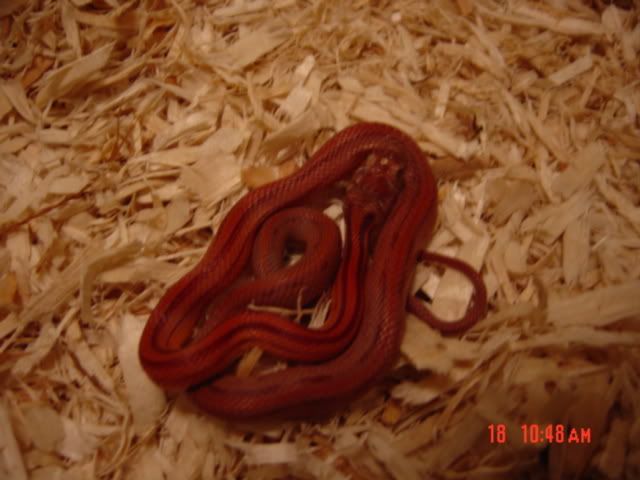 Male Striped Corn Snake(
elaphe guttata guttata
)Got him lil over a week ago and named him Rex in light of me missing mine. 8) Hes a cool lil bud and I can't wait for him to get bigger. I also already know this started an addiction and Ill probably dump some money on getting some more in due time.
With all that stuff mentioned going on a week after I get that store I opened, it gets robbed and trashed. So now finding a part timer to work there and clean up was a hassle. Not too much has been keeping me going but my lil bud pictured above and my gf. Just tired and worn out.
Yet tomorrow (friday) ill have a vacation....but its not one youd figure id take. With working hard, spending money here and there, and getting a store back up to shape-I went to the dentist. My wisdom teeth are coming in sideways. So the day after my birthday im going in for surgery to get tem removed. While taking 2 days off to recooperate(+ the weekend).
The month has been hell and im worn out. Not to mention me being the age that I am and having the bad back of a 75 year old doesnt help at all. Lurking on the crx community boards is always a must but I figured Id show myself once in a while.
I hope all is well and I see already the forum is growing quite a bit. Im off to sleep because I have to work and show the new guy how to open, since I wont be there because of the surgery.
Im gonna go back in my hole now...
Goodnight and take care.