Discussion Starter
·
#1
·
This thread is a WIP. **All that is left now is to finish the wiring pinouts**
About the Swap
This thread is about putting a D16Y5 VTEC-E engine, harness, and ECU into a 1988 CRX DX*, retaining the original transmission and exhaust. I converted the CRX to OBD2, including the ability to use an OBD2 scan tool just like you would on any 1996+ passenger vehicle. I did a little bit of restoration, but the body work and interior remain largely as they were when purchased. The main contribution here will be showing how to wire the one-piece OBD2 harness to the CRX dash harness, something you will probably not find anywhere else.
*
The previous owner had swapped in an OBD0 JDM D15B. Many times throughout this thread I refer to the JDM D15B as a D16A6 or it's parts as those from an Si.
Intro
This is all backstory so skip to the next section if you're not interested. :zzz:
My friend had a late nineties Mazda Mirage. Not a bad car, but it was beat to hell and had never had any maintenance done to it. The driver's door had a peculiar scratch along it's side that looked like a bear had clawed it. I fixed a belt squeal on it, but any time she'd ask me for any more help I'd tell her to buy a Honda. Other brands are put together stupidly, are harder to work on, and they just don't have the reliability, fuel economy and performance of a Honda.
At some point in time we started talking about getting her a CRX. She's only 5ft tall and I think she saw it as a cute little car that was sized for her. :bounce: CRX's aren't seen too commonly anymore, but any time she'd spot one on the road, she'd take a pic and text it to me. I spotted a real nice red one with the personalized plate "SIANARA". I knew the guy would never sell. There's a clean white one near my house that an old guy drives. At her work there's a super clean yellow one. I doubt either of those guys would part with them either. There's usually a couple for sale locally, but they're completely modded to crap and in horrible condition, missing parts that are very difficult to find.
Eventually one popped up for $1200 looking fairly stock and complete but sold "AS-IS AS-IS". It was a white DX with some huge ****ty wheels, drag tires on front and cheap ones on back. It looked to have a D16A6 head swap and ****ty MPFI hack job running on a chipped P28. It had some masking tape on the drivers door glass to cover an inch gap. There was a dent on the driver's door and fender, and it was missing the rear interior. The tops of the door panels were pitted and there were stickers on the back bumper. The title was clear and there was no rust. The seller was a drag racer with another CRX so I wondered if he had used this one as a parts car, but his drag CRX was completely stripped so it's not likely. I judged it to be a good starting point if the price was right. She talked him down to $800, we jump started it and drove it to my place.
It ran good but blew a lot of white smoke which I assumed to be an improperly done head gasket. When she got the title it turned out to be a salvage which was disappointing but not a deal breaker. I found a D16Y5 at a junkyard in Denver for a good price, so we rented a van and made a road trip. I had them drop the engine on a big tire and we brought it back. Then I began gathering up info and wiring diagrams. I also began scouring junkyards for missing and broken parts.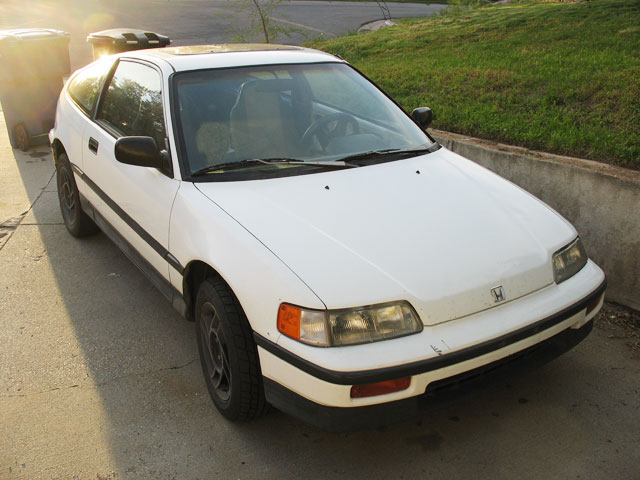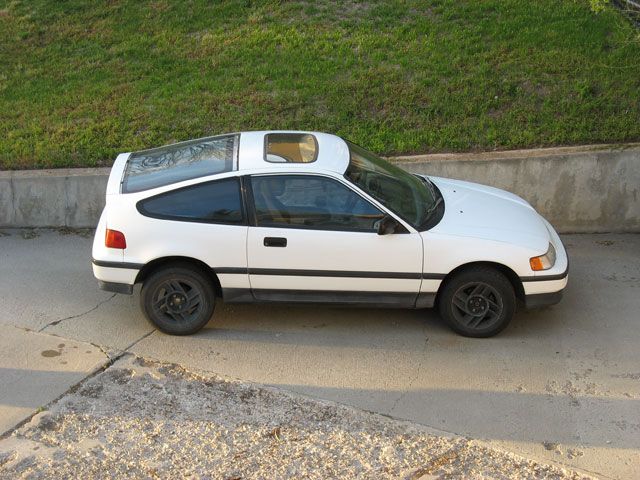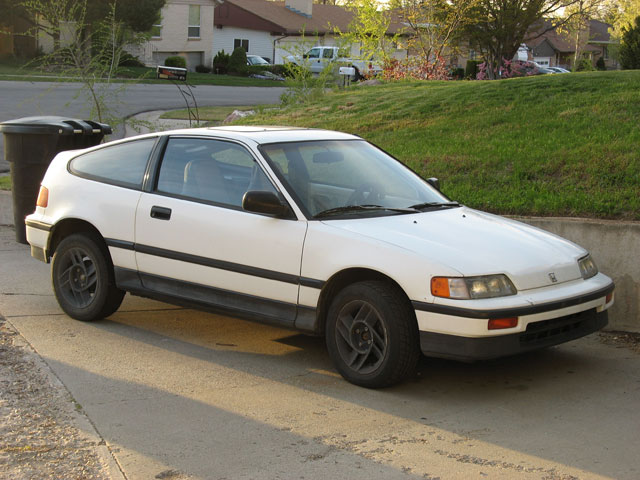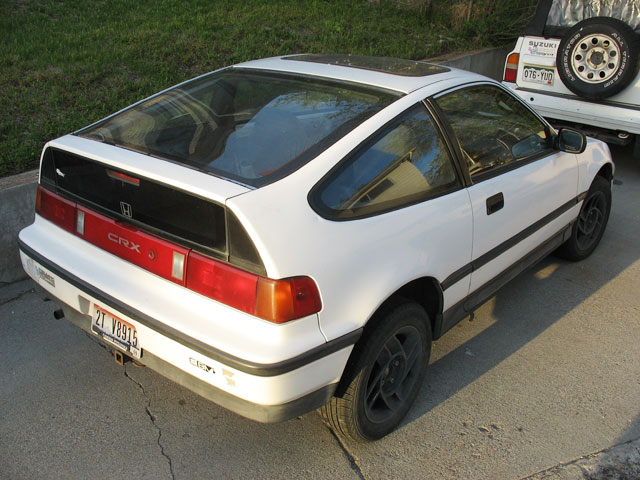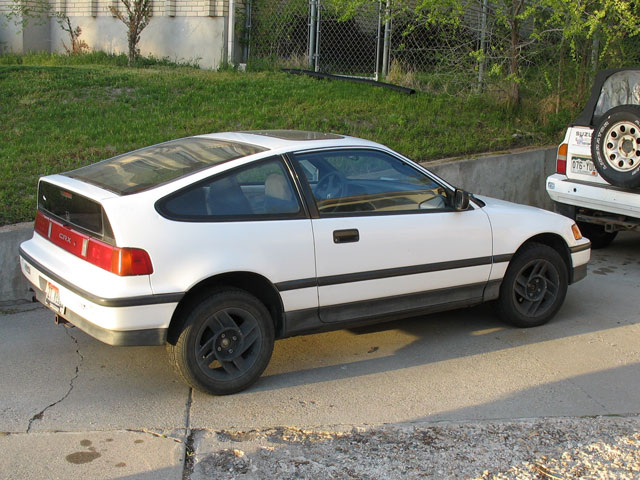 Engine Choice
The D16Y5 came in the 96-00 Civic HX. It's a lean burn, VTEC-E engine, nearly identical in appearance to the D16Y8 except for the presence of EGR and a cat converter directly on the exhaust manifold. If you take the valve cover off, you can see the roller rockers unique to only this and the D15Z1 (Civic VX) engines. VTEC-E differs from VTEC in that it switches from 12 valves to 16 around 3000 RPM, affecting the intake side only.
D16Y5 Swapped CRX vs Stock HX
The 96-00 Civic HX has power steering and AC, weighs 420lbs more than the CRX, has a larger surface area and higher coefficient of drag (difference of .02). It has larger 14 inch rims (which favors taller gearing), and each rim is about 5lbs less than the CRX's. Based on the positives I estimated that the HX engine in the CRX should gain about 7mpg. I don't know how much the negatives (heavier rims, shorter gearing) will detract from that.
The end result of a D16Y5 swapped CRX should be comparable power and acceleration to the Si, and fuel economy comparable to the HF. If the Civic HX gets around 40mpg, a CRHX should be able to achieve 45-50.
Curb Weight
1988 CRX DX MT 1922lbs
96-00 HX MT avg 2341lbs
decrease of 419lbs, estimated .9mpg per 100lbs (3.77 mpg gain)
Coefficient of Drag
1988 CRX .30
96-00 HX .32
decrease of .02
Transmission Gearing (CRX DX trans used in this swap)
1988 CRX DX 3.250, 1.894, 1.259, 0.937, 0.771, final 3.888 Rims 13" (2800RPM @ 70mph), Rims 14" (3000RPM @ 70mph)
96-00 HX 3.250, 1.782, 1.172, 0.909, 0.702, final 3.722 Rims 14" (2500RPM @ 70mph)
retaining the CRX DX transmission favors acceleration over fuel economy, even more so when used with 14 inch rims
Fuel Economy
1988 CRX DX 29 city, 35 highway
96-00 HX 33 city, 41 highway
These are the conservative fueleconomy.gov #'s
Power Output
D15B2 92hp @ 6000RPM, 88ft/lbs @ 4700RPM, compression 9.2:1
D16A6 108hp @ 5600RPM, 100ft/lbs @ 4800RPM, compression 9.1:1
D16Y5 115hp @ 5600RPM, 104ft/lbs @ 4500RPM, compression 9.4:1
+7hp, +4ft/lbs over the Si, +13hp, +6ft/lbs over the DX
Convert to OBD2
I decided right from the start to swap over the complete engine, harness, ECU and smog equipment. I wanted the reliability and credibility of doing it this way. I didn't want a questionable tune on a chipped ECU. I wanted the factory ECU complete with an OBD2 port and a diagnostic port that could be jumpered manually.
Any mechanic in the future should be able to service this car. If there's a problem or if it fails emissions, they wont have to question the tune or the wiring. All the parts should be stock and referenced from either an HX or a CRX.
One problem with doing an OBD2 conversion is that you wont find any help online. All my searches turned up posters on various forums fervently rejecting the idea outright and recommending an OBD1 conversion with a chipped ECU. When people on forums don't know the answer, they attack the question and the poster. Having been in the game for a while I'm at a point where if I don't know the answer, no one else does either. For this reason, when I did run into trouble, I opted not to ask.
References (not primary sources)
http://en.wikipedia.org/wiki/Honda_D_engine#D15B2
http://en.wikipedia.org/wiki/Honda_D_engine#D16A6
http://en.wikipedia.org/wiki/Honda_D_engine#D16Y5
http://en.wikipedia.org/wiki/Automobile ... oefficient
http://www.teammfactory.com/gear-calculator
http://ecomodder.com/forum/showthread.p ... 26279.html
http://www.fueleconomy.gov/feg/noframes/12611.shtml
http://www.fueleconomy.gov/feg/noframes/4136.shtml