Discussion Starter
·
#1
·
Whats up dudes and gals, here I am introducing my 92 Civic Hatch Dx I just recently adquired. Its stock, missing a few things here and there, such as Carpet, Rear speakers, floor mats, and good rims. It still has the D15b7 with a generic intake But the last owner sold it to me with a side B16A2 complete engine that thru out a rod main baring.
Just like all hondas that are not taken care like they are suppose to, it has some rust in (lucky me) one rear quarter, I still gotta clean it and finish inspecting it. For the price I paid, I think is worth it.
Teaser Pic...
Mean while, I also landed in a great deal with a Complete B20B Block, $250 for this bad boy.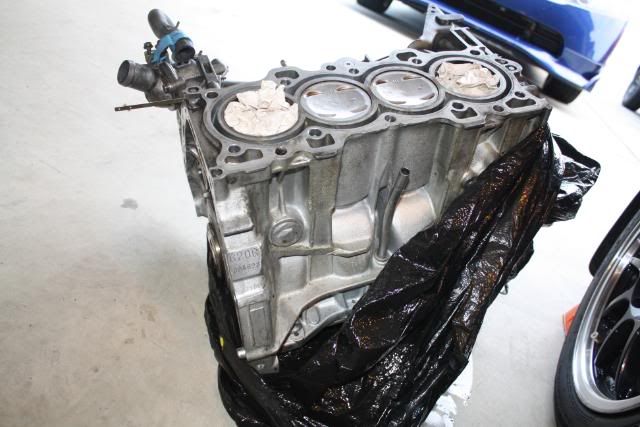 I am gonna clean and detail the hatch and daily drive it during the winter, I am gonna try to get all the necesary parts to get this B20/VTEC going and assemble it only when everything is in my shop.
So here is another build thread to look foward. Ohh yeah, I am not gonna make a 250 WHP NA, just a simple 190-200HP with some good old torque. :nod: :mrgreen:
b
Edit for the PArts list and Plans:
HEAD
-BLOX camshaft
-BLOX Adjustable Cam Gears
-BLOX Dual Springs
-BLOX Spring Retainers
-Stock valves
-BLOX IM (Found Used)
-BLOX 68MM TB (Found Used)
-B18C Timing Belt
-310cc injectors (out of a 08 Si)
-Catch-Can set up (same as my CRX)
BLOCK
-Generic VTEC Conversion Kit (They all do the same, so no big $)
-84mm YCP High Comp Pistons
-ARP B20/B16 head Studs
-KMS Block Guard
-Stock Rods
-Cometic HG
-ARP Rod Bolts
-B18B Water Pump
-B18B Oil Pump
-B18B Tencioner
-Stock Oil Pan
-OEM Bearings and Gaskets
DRIVE TRAIN
-Whatever B Series Trans comes first.
EXTRAS
-DC 4-2-1 B18 Header (The one I had on the CRX before Turbo)
-2.5 inch Exhaust (Might get a Generic brand depending on how much would be to build one)
-Generic CAI
-Already have a P28 with Demon and license (Another I got cheap from HRTuning.com/forum)
-B18 Stock Resurfaced Fly Wheel
-ACT Clutch
-Integra Axles (Dependant of what Middle Shaft I get)
As I mention, My power goals are 190-200 WHP reliable. feel free to give your opinion on the parts list, I am willing to change/update any parts from it. You can see that I'll be using BLOX everything on the head, they are cheaper than SK2 and any other manufacturer out there, but a little better than OEM, I think, lol.
Adilson