Discussion Starter
·
#1
·
This info applies to the 88-91 Crx.
Q:
What seats are available and what will fit in my Crx?
A: The only seats that will work are other Crx seats, but there is a rule to follow. The rule of thumb is to match the seatbelt styles. If your Crx has pillar mounted seatbelts, the only seats that will bolt up are seats from another Crx that had pillar mounted belts.
Seats from CRXs' that have door mounted belts will not bolt in and swap over to a CRX with pillar mounted belts and vice versa. The only way to "swap" them would be to swap the seat pans for your specific application.
-All USDM '88 models and the USDM '89 HF have pillar mounted belts.
-The USDM '89 Si/Dx and all US 90/91's have door mounted belts.
-All 88-91 Canadian/JDM/EDM/UKDM/Non US models all have pillar mounted belts.
JDM 90/91 SiR seats
JDM SiR seats DO NOT have leather in the middle inserts, they are
a combo of leather bolsters and fabric inserts as shown.
EDM 90/91 Vt seats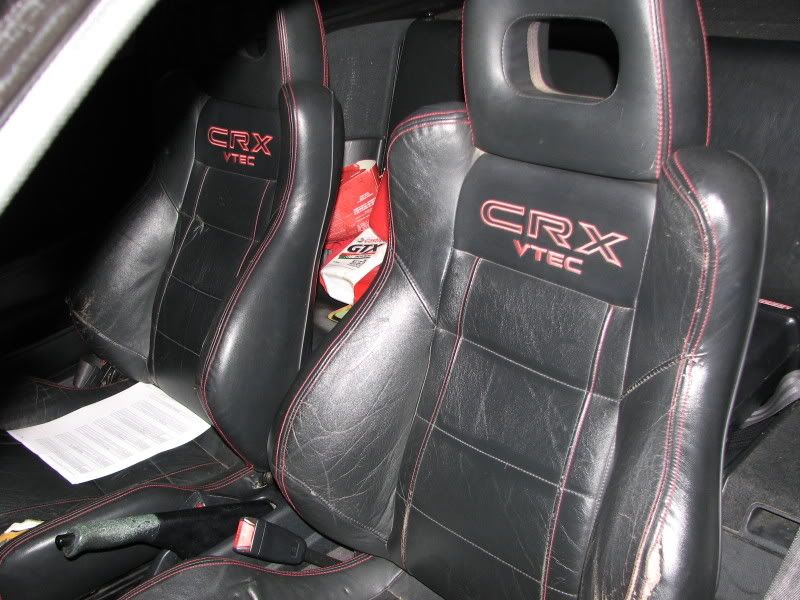 These seats are from an EDM CRX VT. They are all leather with red stitching and "CRX Vtec" sewn into the seat.
USDM 88/89 Crx Si seats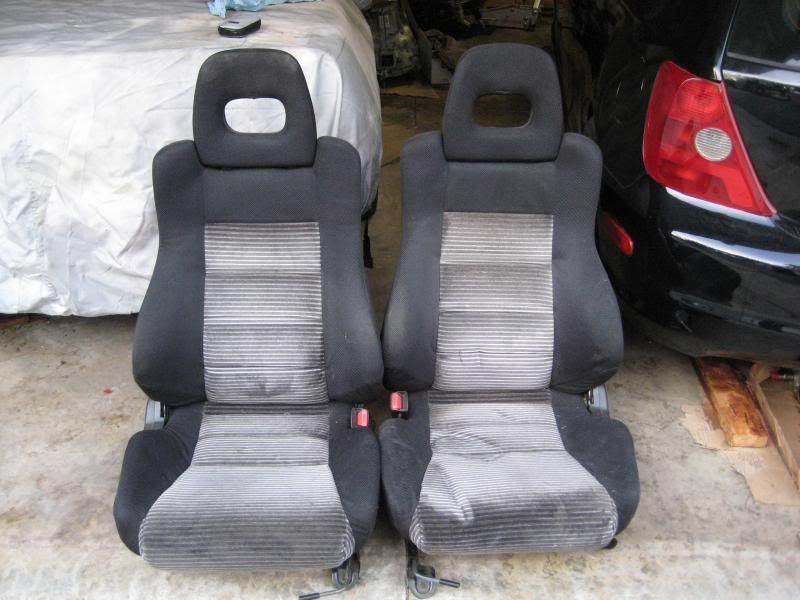 USDM 90/91 Crx SI seats
*There is a slight difference between EDM and JDM cloth seats. They use the same colors but EDM seats will always have a horizontal stripe pattern. The diagonal pattern was exclusive to the Japanese market.
88/89 JDM Si seats (poor angle photo) Red/black & gray stripes, 'CR-X' on the backrest.
90/91 JDM Si seats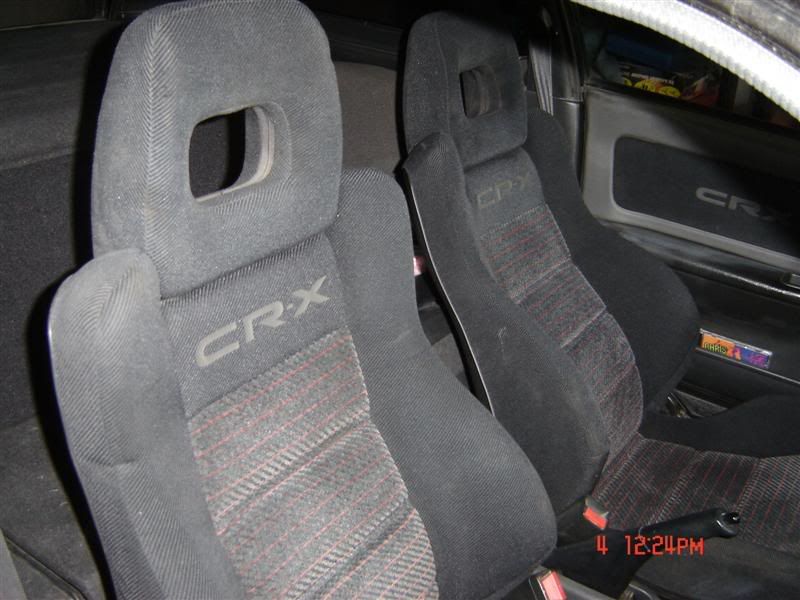 90/91 EDM 1.6i-16 seats
JDM 1.5x EF6 88/89 seats(Gray stripes)
JDM 1.5x EF6 seats 90/91(light colored stripes)
JDM '89 Crx exclusive seats
Only 350 of these made, only for the Japan market and only in '89.
Pics and info:
viewtopic.php?f=2&t=3417&p=34795#p34795
JDM 1.5x "G-Special" tweed seats (Glasstop option for this model being the main feature)
"Dx" model seats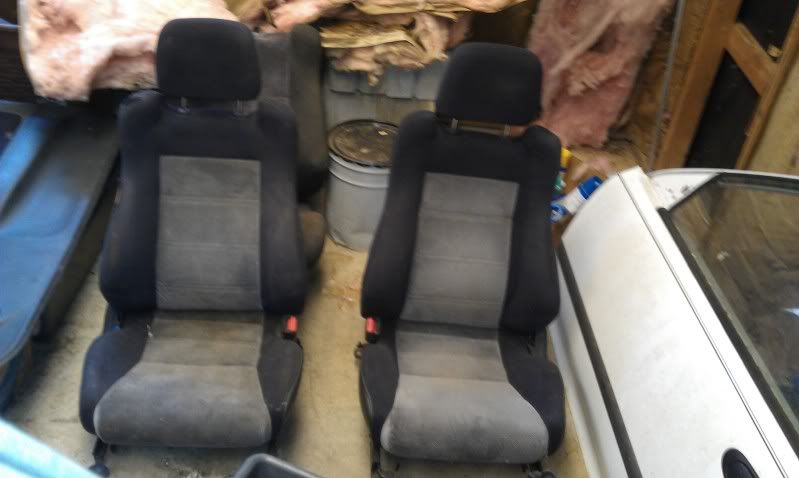 Rear Seats:
Only Available in Crxs' outside the North American market.
SiR/VT rear seats
JDM Si cloth rear seats
JDM 1.5x "G-Special" tweed cloth
Front end identification:
Only 2 OEM front ends available, the SiR/VT, which was available starting in 1990 or the regular 90/91 front end.
You cannot mix and match SiR and regular front end parts successfully.
SiR/VT front ends differ from the regular front ends not only in appearance, but also in fitment. So if you want to do the conversion, it's all or nothing.
-SiR headlights are longer. EDM VT headlights are glass, JDM SiR are plastic.
-Both the SiR/VT lights and the EDM non SiR lights use single H4 bulbs.
-SiR corner lights have a different contour
-SiR has a different hood.
-SiR bumper differs
-T-bar differs slighty as well(Use the Ef6/Ef7 T bar)
-SiR lip is about 3in longer
SiR/VT front end
Non-SiR front end
Lets not forget the hump hood that was available on Non-USDM Si models.
Typically known as the "Zc" hump hood, this hood fits the regular, non SiR front ends.
*USDM front ends can be interchanged, bolted up and swapped between 88/89 and 90/91.
Cosmetically, some subtle differences.
-Any 88-91 US headlight will swap. If you use 88/89 headlights on a 90/91, you will need to use the 90/91 metal bracket frame and vice versa. Retain and use the metal bracket for the year of your car.
-Corner lights also differ. To use 90/91 corner lights on 88/89, you need to get the small slider tabs which snap into the front fender and use the 90/91 headlight frames.
SiR/VT headlight compared to US/Non SiR headlight.
Notice the SiR is longer.
EDM non SiR/VT headlights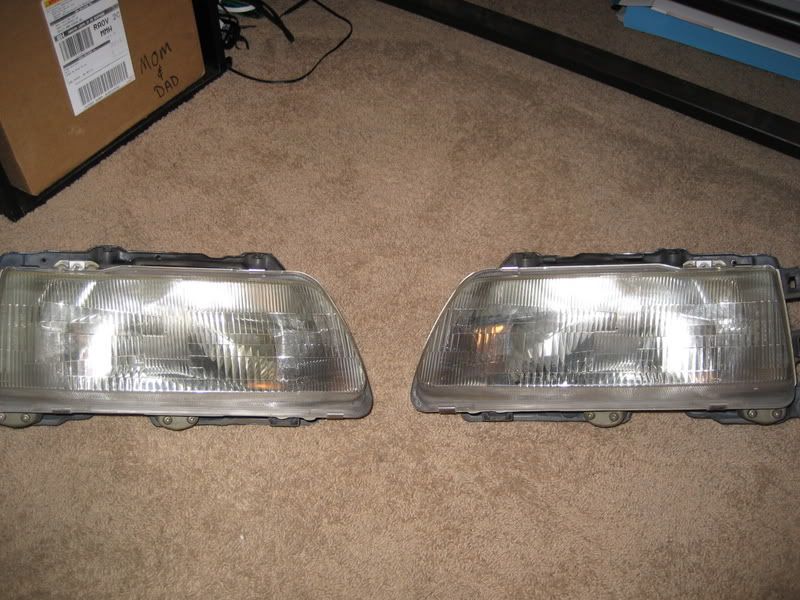 Tail lights:
All 88-91 tailights interchange and bolt up.
88/89 does use a different bulb harness coming form the car. If you want to use 90/91 tails in your 88/89, you will need to use the 88/89 tail light bulb harness.
Only two OEM varieties of outer tail lights available. Design changes from 88/89 to the 90/91 remain the same in all regions. Only difference is the red reflector on the side, which can be found on lights for the North American market.
Lights do not differ between trim levels either(There is no such thing as "SI" or "SiR" specific lights.
88/89 USDM tail lights
They have the red reflector on the side and no dark red border around them.
88/89 Non US lights
Amber wraps around the side, no reflector like the US counterpart.
90/91 USDM lights
Red reflector on the side and dark red border around them.
90/91 Non-US(JDM/EDM/UKDM)
Amber wraps around the side, no reflector like the US counterpart.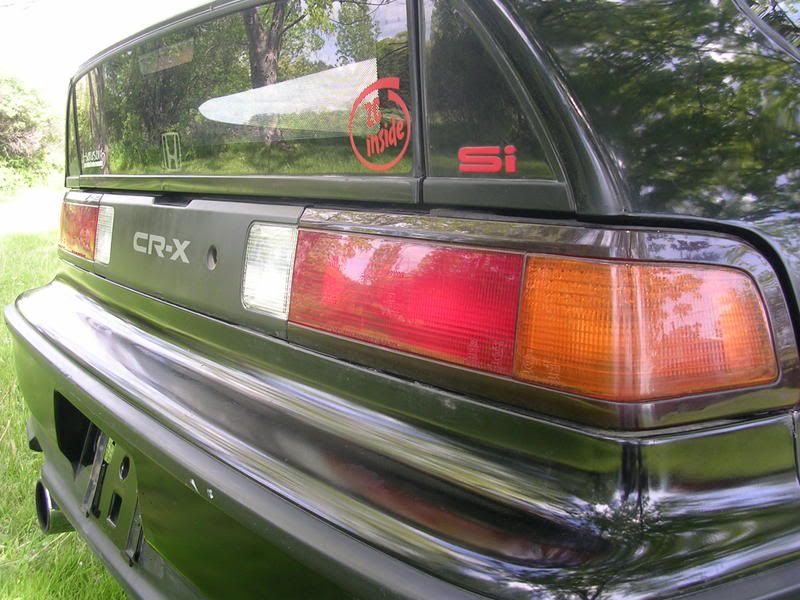 USDM Style differences:
90/91's on the left, 88/89 on the right.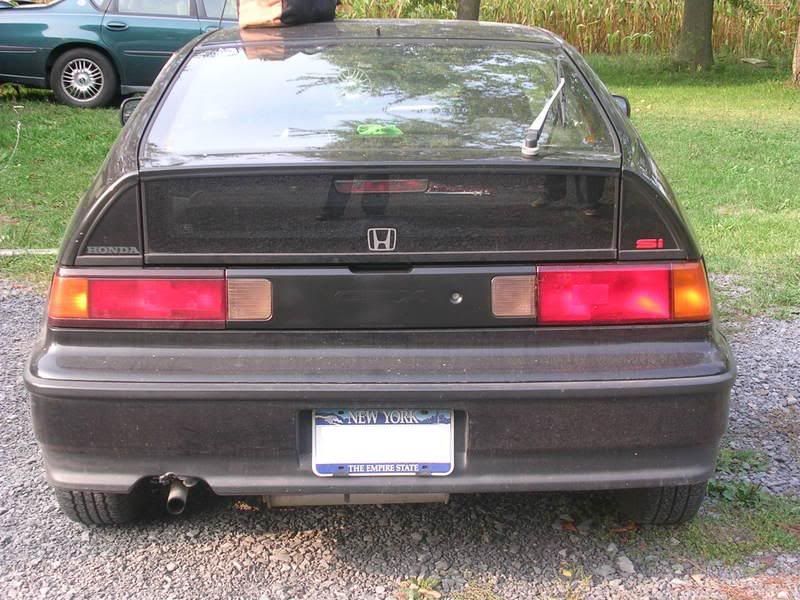 JDM/EDM/UKDM style differences
88/89 on left, 90/91 on right.
Center panel lights:
88/89(Top), has two reverse lights and separate fog.
90/91 (Bottom) fog light replaces one reverse light.
Both have the fog light on the left side.
Lights from the Japanese market do not have a fog light option.
Countries where they require rear fog lights and have RHD vehicles, the fog light will be on the right side.
LHD countries will have the fog light on the left.
90/91 Crx "Vtec" center garnish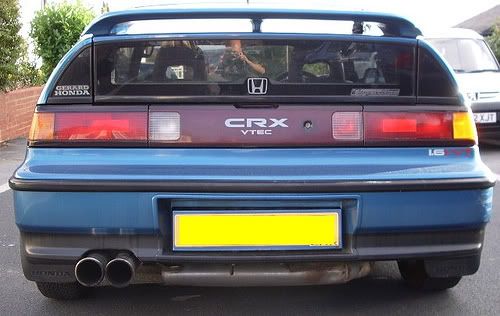 The "vtec" piece was available on SiR and VT models.
Two "spelling" variations exist. Ones from Japan have CR-X, all other regions I believe got "CRX".
The Japanese market center piece will have raised "CR-X" lettering which is part of the taillight, and cast in. It is not a sticker/decal as all other markets received the flat sticker.
Non SiR CR-X
SiR
JDM center pieces do not have a fog light AFAIK. I believe it to be a European requirement.
Cluster Variations
88/89 Crx 1.5x
JDM, in KmH, 7k redline
90/91 Zc auto cluster
JDM, Kmh, from an Zc equipped Crx w/auto trans., 6800 redline.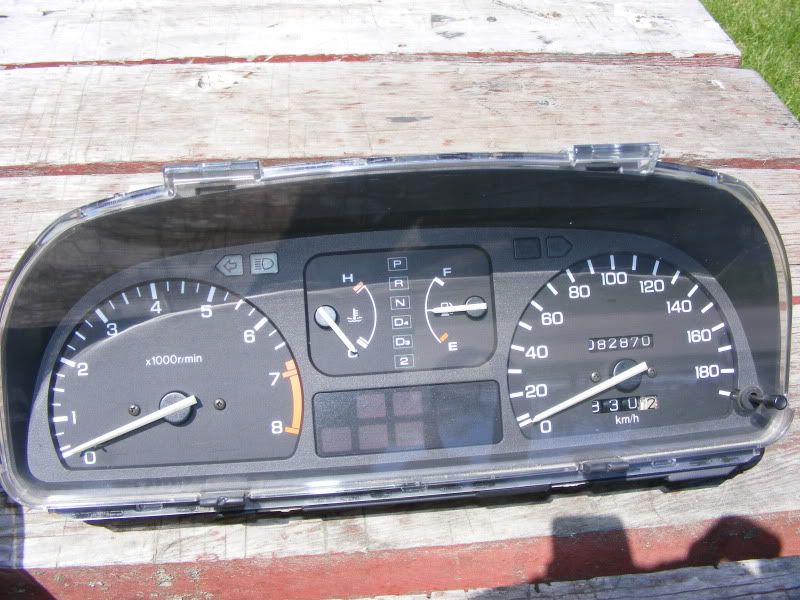 90/91 Euro ZC cluster Kmh and 7200 redline
90/91 UKDM VT cluster
Reads both Km and MPH, 150 mph speedo, 8k redline
90/91 JDM Si cluster
Kmh, 7200 Redline
90/91 USDM SI/Dx cluster
6500 redline
90/91 USDM Hf cluster
Shift light, 5k redline
90/91 JDM SiR Cluster
Kmh, 8k redline, requires elec. VSS and wiring harness mods to be used in USDM cars.
Wheels
SiR/VT
Another SiR Option
88/89 Si
90/91 Si