Discussion Starter
·
#1
·
The reason for this how-to is to grant our fellow CRX brethrens the knowledge to create an engine torque damper using an NRG Kit in Titanium finish for the 96-00 Civic(No yours doesn't have to be the same color). Because we all know there is no kit out there currently for our beloved CRX's or Civic Hatches. This install couldn't be simpler.Its quick, its not dirty, It needs very few tools, very few people(you), and very few cars(yours!).Later on after the installation i will show you how to exchange the supplied bushing sets and set the torque damper preload(stiffness)
NOTE-NEVER ADJUST PRELOAD WHILE DAMPER IS INSTALLED ON THE VEHICLE. YOU CAN OVER STRESS THE UNIT AND DAMAGE SOMETHING
DISCLAIMER: This write up is merely a guide. Thereby i accept no responsibilty for any damages or injury that happens during the installation, or because of the installaion of this product with or without using this guide.
First off is the parst list:
1.NRG Torque damper for 96-00 Civic
2.You(Duh)
3.17 mm socket
4.Equivalent sized ratchet to fit it
5.A 10mm socket
6.yada yada same sized ratchet
7.Hacksaw/or air powered cut-off wheel
Whats All included in the kit:
Now when you open your brand new shiny chameleon NRG package it should have the folowing:
its is comprised of 2 mounting brackets, 2 bolts with supplied washers to mount to the brackets, the torque damper, 2 Black rubber bushings(soft), and 2 Red Polyurethane Bushings(Hard). I will show you how to change these later, Mine came with the Red Poly ones pre-installed.
Should roughly look liike this after the installation:
Now the Installation:
Find a D-series powered CRX or Civic Hatchback, here's one with BRIDE Vios III Bucket Seats
So pop the hood, now for this particular engine the Damper will be installed in the location of the circle:
Now remove the 10mm bolt that helps hold the harness to the engine bay wall:
Take the smaller Mounting Bracket from the kit and using the 10mm bolt you removed, attach it to the engine bay wall as shown:
Next grab your 17mm Socket and Ratchet then Unbolt the Engine mount bolt closest to the fire wall:
Now normally you would just bolt the second mounting bracket into place, but since this kit is for a different car, this isn't the case.Its time for some slight fabrication. If you would ignore me and try and bolt it on it would look like this. The problem points are listed below as well:
To Fix it you will need to get your hacksaw/ air cut-off wheel and take a little off of the second un-used bolt hole.Material needed to be removed is shown as the black line:
Note: You could use a file or dremel to clean it up a bit
Now that can be bolted down like shown. You now have plenty of room for adjustments now.
Now we need to Lengthen the supplied torque damper because the damper in its fully extended state is still not long enough.
To fix it: Get to your parts bucket, or local hardware store and pick up a nut thats M10-1.5 thread size and pitch.
This is what i used, cost me a $1.37:
okay now what you wanna do is take the adjustment nut shown here, and locate it to the other side(it looked cleaner this way)
should look like this:
go ahead and put the female eyebolt back on,now u have gained the necessary length needed.
Then using ur new nut, put it where the old one you just relocated was before:
So the new lengthened unit should look like this:
Go ahead and bolt it to the brackets using the supplied hardware: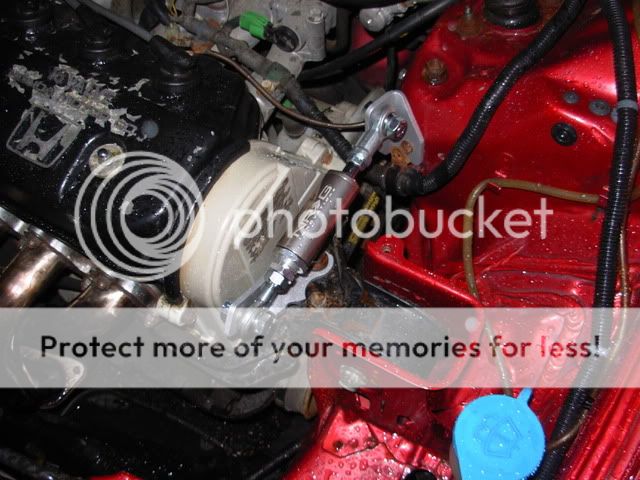 Tighten everything down and your done! Now on to Adjusting the preload and swapping the bushings.
Now Go Enjoy:
-Better Throttle Response
-Slight increase in horsepower due to non-wasted movement
-Smoother shifts
-Longer Engine Mount Life
-Better Off the line "Get Up and go"
-slightly less wheel hop
Your probably wondering why everything is wet in the photos. Just to let you guys know how dedicated i am i had to do this on my only day off this week. It was pouring rain, cold, no garage, and dark as well. thank goodness for the flash on the camera.My friend steven(who i also borrowed the camera from) helped me earlier in the wet too[Thanks Steven, u were a big help]. Here are some photos to illustrate my dedication to giving u guys the first d-series torque damper writeup for our cars. If it was snowing, i still would have done it for you guys:

lol my crx has 1 arrow and my spec v has 2 arrows so u can make them out in the darkness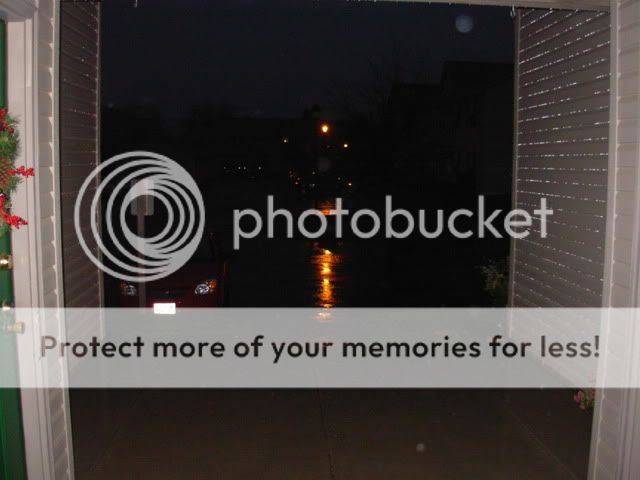 Preload-The Preload setting on this damper is essentially its stiffness setting. To adjust it just follow these steps:
On the left side of the damper(if your reading the NRG logo) there are 2 nuts. A large nut that locks it down, and a slightly smaller nut that sets the stiffness. Rotate the set nut clockwise to increase stiffness, and counter-clockwise for softer. When finished, lock it down using the lock nut.
Now for swapping bushings:
First remove the female eyebolt on the right side of the damper(if your reading the NRG Logo):
Then remove the casing nut that holds the internals together:
Then yank the shank outta there(lol) and swap the bushings byu sliding them off:
All thats left is putting it back together again, if u forget heres a blow up:
Alright now ur finished. read some of the literature that came with your NRG kit or share a packet of silica gel with a buddy.(Just kidding, don't eat that it's poisonious!!)