Discussion Starter
·
#1
·
We could all go out and buy the fenders with the holes already cut and in the correct spot, but what fun would that be?
Crx Sidemarker Install
Tools:
-marker
-masking tape
-tape measure or ruler
-dremel tool
-patience
1.Measurements and placement.
2. Using a marker, make your measurements and use masking tape to masks off the area. It will prevent chipping the paint and give you a guide for cutting.
The following pics are from the install last year when my Fiance and I did this to the Crx last year. At the time, I didn't have the exact measurements as posted above, so mine may seem a little off but you get the basic idea of how to go about doing this.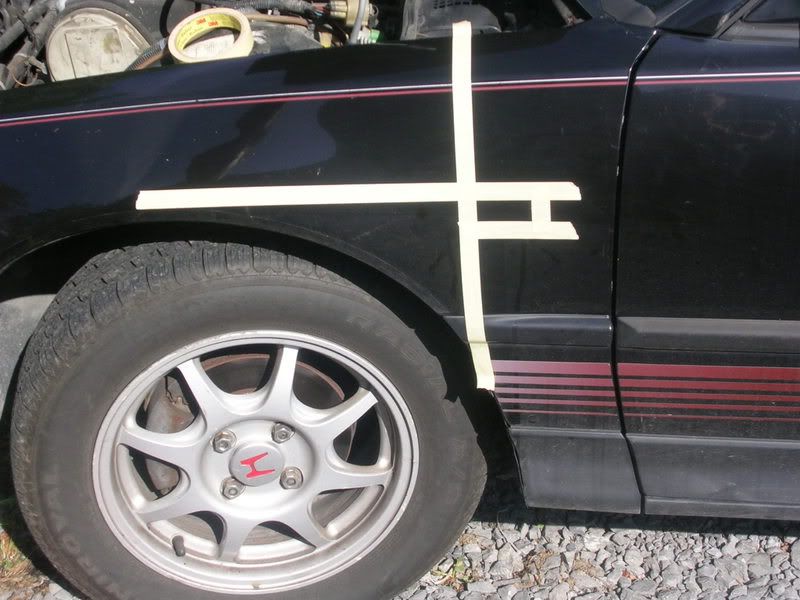 Doing it the first time, each side took about 30-45mins.
It is something that can be done in an afternoon, but I don't recommend you rush it. Remember you can always cut more, but you can't add it, so test fitting the piece often is in your best interest. Cut the hole smaller than you may need. It was easier to cut the fender while still on the car, but that is up to you.
Finally, if the paint around the cut area is chipped, with the appropriate size brush you can use touch up paint. Apply as/where needed.
Measure 5 times, cut once.
Feel free to add if anything was missed.