Discussion Starter
·
#1
·
Sup guys,
Spent sunday dialing in my roomates car, figured Id share where im at, and some of my processes, theories, etc on tuning.
The setup is a built Z6 (eagle rods, SRP pistons, etc) in a 96 Civic DX, getting ready for turbo (basically a modified greddy kit). Car ran into a financial speedbump, it was slated to get done last august, but now that the funds are back things are going full tilt. Its got DSM 450s, lc1 for wideband love, GM 3 Bar for boost reading pleasure.
We were lucky enough last year to have the mad scientist in town to help with the wiring.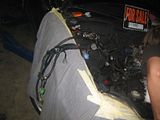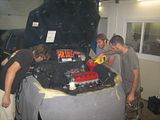 so we know the wiring is straight hehe.
So i whipped up a sick z6 basemap, made a few calibrations to it, disabled things like ELD, o2 sensor. set a sane vtec crossover point (well find the perfect one on the dyno) Locked the base timing, timed the beast. Scaled the fuel enrichment till the car idled solid and took it for a spin to blow out the dust bunnies. Car started off pretty good, rich almost everywhere. I setup some target AFRs in the 350-800mbar range. I tune the idle by hand, and the WOT runs, but I let neptune work some magic on the section formally known as closed loop. Then I go in an smooth the tables. I also give the timing tables a once over and make sure they look good to me. a stock z6 will want like 26-28 degrees of TABLE timing up top at least. The key here is getting everything smooth, and dialed in so I can expand out the scalars past 1000mbar and make a good boost basemap to start from.
So we do some driving, I get everything dialed in nice. Then I added like 10 percent fuel to the 850mbar-1000mbar load columns, and we go for a few 3rd gear pulls. Of course the pulls are plenty rich, which is a ok. I keep scaling them down until we are getting nice numbers (all the while making sure we stay in the 0 percent correction section of the ECT and IAT maps, if you have to, dial them out for tuning, you dont want them screwing with your logs until much much later). Swapped in a fresh set of plugs on the side of the road, fire her up, did a nice pull, shut it down, coasted off the road, pulled the plugs and there was no signs of detonation (which there shouldnt be, haha, its an na z6 with only 28 degrees of timing!)
Now, you can see how the fueling is easy, because you have constant feedback. Timing is a whole nother animal. I only know what the timing should be from experience, and from the stock maps. I pull the plugs to look for obvious detonation, but I really should make some detcans.
Anyway, that was kind of a brain dump, but next up Ill show you how I take a solid non boost map and turn it into a great starting point for boosted, and why this is hard on hondas (it has to do with the legendary xxx psi on this turbo doesnt equal xxx psi on that turbo thread).
Here is one of the last couple of logs I have. You can see im still a little rich up top here, I ended up dialing that back. but its all about smoothness. Heres the pics, Ill talk about each graph in a second. I dont log manifold pressure here, well, because its 1000mbar give or take haha, its NA. once its boosted Ill be logging it for sure.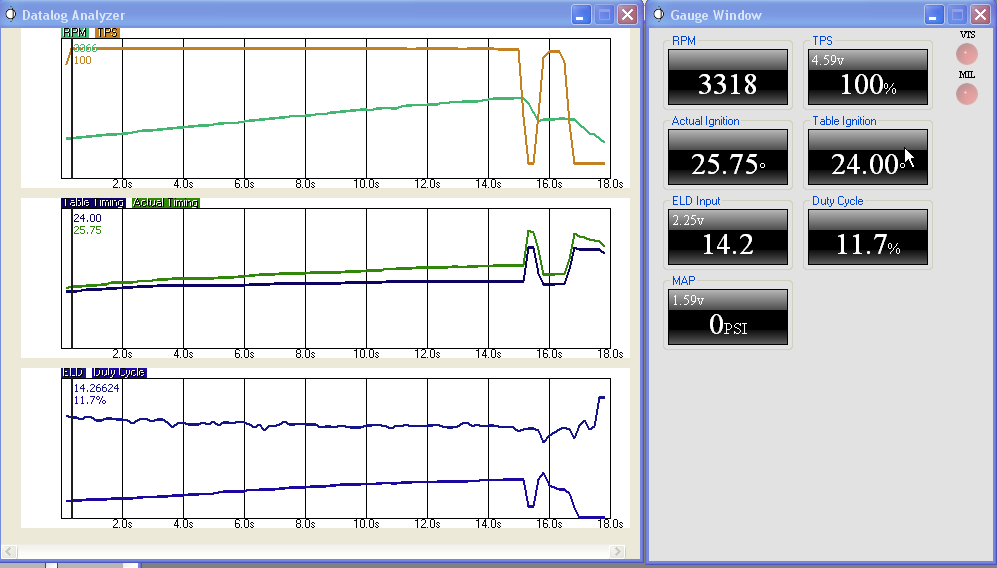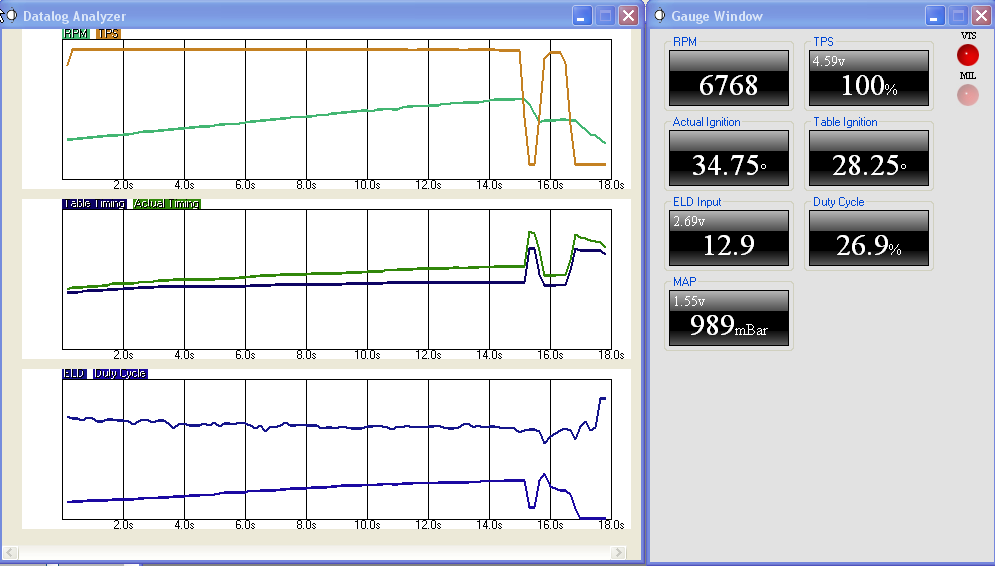 The first graph shows throttle position, so you know its a WOT run. It also shows RPM, for reference.
The second graph shows you table timing, and ACTUAL timing. There is a hidden (or not so hidden depending) table in honda ecus that adds timing on an increasing scale as rpm goes up. with Neptune you can choose to use this or not. I tend to use the stock adjustment in the NA section of the map, but switch to straight table timing in boost. This makes boost tuning much easier, but keeps all your normal driveablilty. Its good to note that 28 degrees of timing is actually almost 35 at 6800 rpm :shock:
The last graph shows AFR and duty cycle. The duty cycle is nice and low (27 percent peak and that was running rich) so plenty of headroom for BOOST!. The one thing Id love to add is a logged fuel pressure. On my car Im going to do this with an electronic fuel pressure sender and wire it into one of the spare inputs so I can log it. It'd be great to know the fuel pressure is dead nuts solid.
You can see, my AFR transition on that pull is nice and smooth. Since then Ive worked out those little kinks. Both your timing and fuel maps need to be smooooooth. No jumps, spikes, plateaus. Right now the car is running mid low 13:1 all through its real power band. This will be great for scaling out to boost tables.
I think thats it for now, Ive got some work to do here at work, but I thought some people may be interested in seeing this.
[email protected]