Discussion Starter
·
#1
·
..on the way home from work today. It was good until about 10 mins after driving. I felt something was seriously wrong. I thought I could get home and check it out. So I start to get over in the right lane because I exit earlier today to pick up my woman. I felt it getting worse. So there is a guy next to me with no space behind him so I can't slow down and pull over. So it do the stupid thing and try to pull ahead of him, I had to repeat this part several times to many people that I did not go NEAR full throttle or anywhere near it, and then I think the guy next to me thought either I wanted to race because I looked at him and started to go a little faster or he just was being a dick and didnt want to let me in. I got in front of him and then-boom it got worse by the second. I heard a couple big bangs then a big one at the end followed by a horrible shaking and hammering in the engine area also followed by a cloud of smoke behind me. Pulled to the shoulder to find this:
The pic was taken at night after the tow truck took me home and got it parked. So its not the full damage even though its not bad it still not all of it in the pic.
It sucks because all I needed was a small plug to get it running on the right ecu but I guess this was unavoidable and probably would have happend with or without the right ecu? I duno but it sucks that I was so close to having it run right.
I could sell my heads(if y8 is good)(both a6 head and y8 ), supercharger, ecu, conversion harness, and anything else I might go B series.
Any suggestions?
Im one of the younger guys so my parents will hopefully help me get a new engine if I dont sell all my sohc stuff but I could get a nice chunk of change with selling all of that stuff.
edit- That black part on the bottom of the pic is the compressor just to give you an idea of where it is. Ill get better pics when its light/when i disassemble.
edit 2 pitures- So got the oil pan but after a lot of pain because there was such a huge dent in the inside that it pushed right on the outside to make it bulge right over a bolt so it took forever to get that 1 bolt off.
And onto the parts
Inside the oil pan
Front of the oil pan
Back of the oil pan
Inside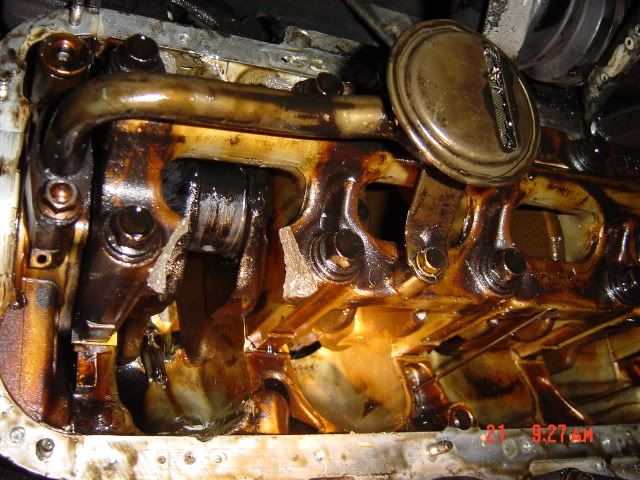 Look how sad he is....
^^Thats a wrench on my valve cover-I have no blue in my engine bay whatsoever.(cept for stock stuff8))