Discussion Starter
·
#1
·
The madness begins.
So, as I have mentioned on many boards before, I am not interested in "racing" but i wanted an engine that was a direct mechanical drop in; no frame notching and I needed to keep my stock A/C or else the wife would complain. I, more than anything, wanted something that would still keep my HF a High Fuel efficiency vehicle while also pulling its own weight when it needed, particularly in mountains and hills.
In comes the little understood gem from Honda. I chose the D15z7, also known as the JDM D15 Three Stage VTEC. This little marvel comes out of the '96 - '99 Civic Ferio Vi-RS. Mine was from a 1997 CVT Civic. I also chose to run this engine the way that Honda intended it to be ran... That is right! I wired my car for OBD2a and I am using the P2J-003 ECU. This write-up/thread will detail my trials and tribulations while undertaking such a huge task for my second engine swap ever.
Materials Needed
- D15z7. I retrieved mine from Hmotorsonline.com. They are always friendly and helpful.
- P2J ECU. I have the 003. This is the OBD2a manual ECU. The different ones are as follows: P2J-003 for OBDIIa M/T, P2J-J11 for OBDIIb M/T, P2J-J61 for OBD2a CVT, and P2J-J62 for OBD2b CVT. Make sure that you get the right one for your application.
- D-Series transmission. I reused my HF transmission to reap the benefits of the lean burn mode. It keeps my cruising RPMs below the 2800-3000RPM lean burn cutoff.
- CRX. My write-up deals with the quirks of the '89 HF. The DX, HF, SI models of different years will have some differences with the under the hood harness but it should not be that bad. Do a Google search; these differences have been well documented by other people. If you are using a DX, then do an MPFI Swap preferably from an '89 HF to follow this write-up.
- Soldering iron plus solder. A cheap Radio Shack one will do but if you deal with electronics or plan on doing wiring and electrical modifications, you will want an adjustable setup. Spend the 60USD. It is worth every penny.
- Shrink wrap. I bought a variety box from summitracing.com for about 6USD. Brand is ThermoSleeve. It comes with 60 1/16", 35 3/32", 25 1/8", 20 3/16", and 10 3/8" sleeves @ 4inches a piece.
- Heat Gun. I used the one from the wife's arts and craft set.
- 96 - 2000 Civic EX Harness. This is not necessary but it helps tremendously for our old cars.
- Mechanic's Tool set. I have a 204 piece set. You tend to use the 19mm, 18mm, 17mm, 16mm, 14mm, 12mm, 10mm, 8mm, and 7mm sockets.
- Adjustable wrench
- Pickle Fork or Three Jaw Puller. Use this for the tie rod ends and the front LCAs.
-Drain Pans to catch the different fluid. Don't cheap out here. Don't mix your fluids, save the environment and buy multiple receptacles.
- Replacement fluids.
- Repair maintenance manuals for the CRX and the 96-2000 Civic EX.
-More as people remind me or I remember.
- OBD0 receptacle from a donor ECU.
Getting Started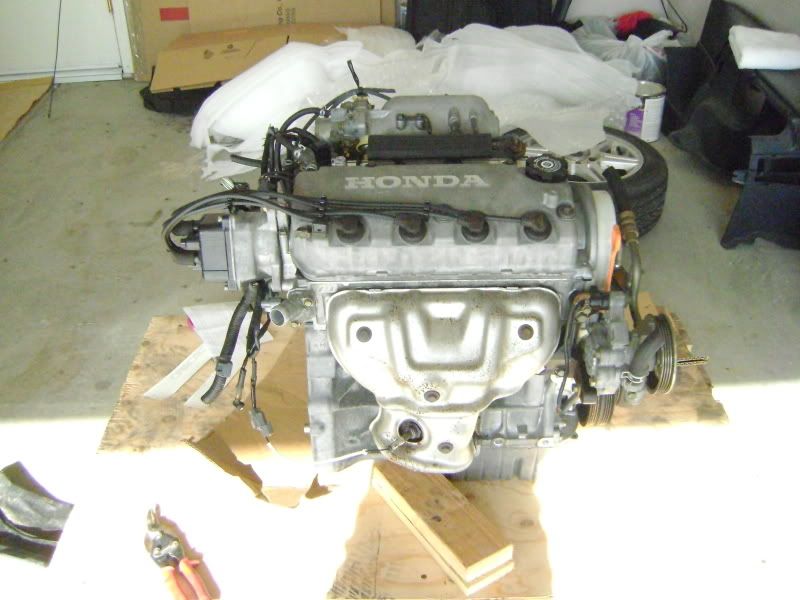 If you get the engine from H-motors, then it will come to you on a pallet wrapped in cellophane. Unwrap and inspect for damage.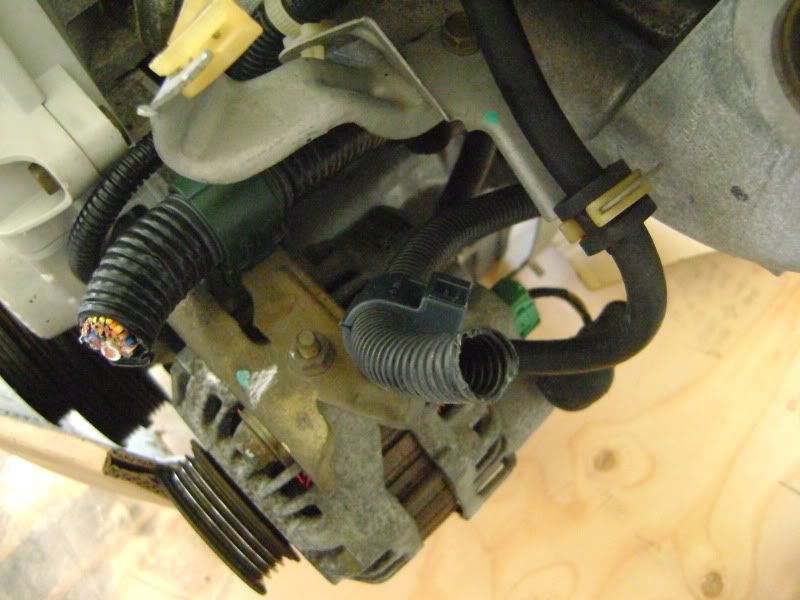 My engine came with a chopped harness, power steering pump, and alternator attached to the engine.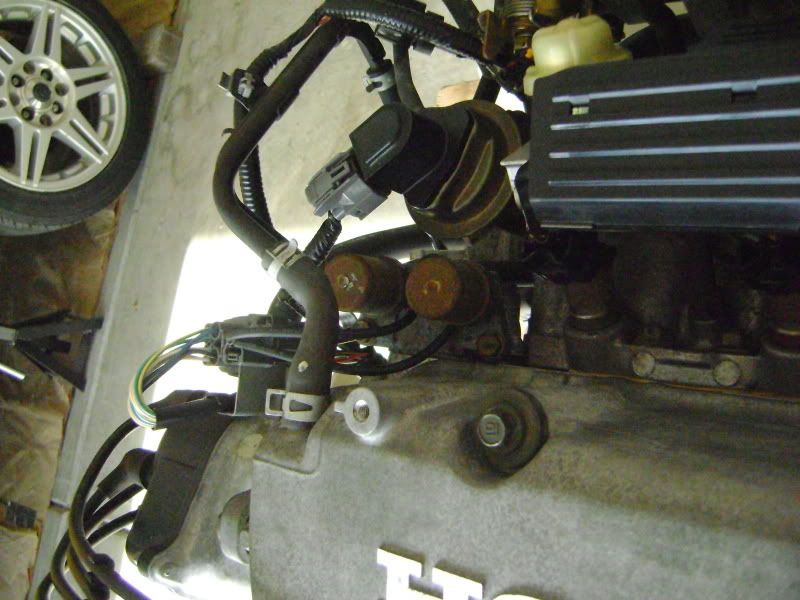 Also check to see that there are two VTEC solenoids propped right next to each other. There should be a two pin connector with a red and a green/yellow wire going into the solenoids (respectively).
Even though these engines are advertised as "low mileage" engines, you still want to do at least a minor tear down of the engine before you drop it in. I took off the valve cover and checked that everything met the specs of my manual. I then painted the valve cover to my liking.
I inspected the engine block to ensure that there were no cracks or signs of over-heating. The engine had been tested and cleaned at H-Motors. It is stripped down to the bare metal so it is advised to cover it or paint it to it to keep it shiny. Mine sat for about a year before I got to it. I ended up sanding down the block and painting it as well. I should have at least covered it. I did the normal engine maintenance, including replacing any seals since the engine is already out of the car. There is a
thread
on D-series.org that has all that you need to know as far as part numbers or comparable parts for this engine.
Creating Your Wiring Harness
So as stated before, I used a '97 EX Civic harness (manual) and the stock '89 CRX HF harness. First, I created a one-piece harness because it seemed like a good idea at the time. Once I got the engine in the car, I realized that this was more of a pain then anything. For one, I made the harness too long and also, there were some "gremlins" in the wires and I ended up using vampire taps to tap into the stock harness for relay grounding and stuff. After getting the engine to fire up and run, I realized that in a pinch that a two-piece harness is both better and allows for troubleshooting. A two-piece harness also allows you to use the stock harness for everything else in the car. In my case, I was able to use the total stock harness and "convert" it to OBD2a. You can use the resistor box wires as additional wire leads so that way you do not need to "run" additional wires into the cabin.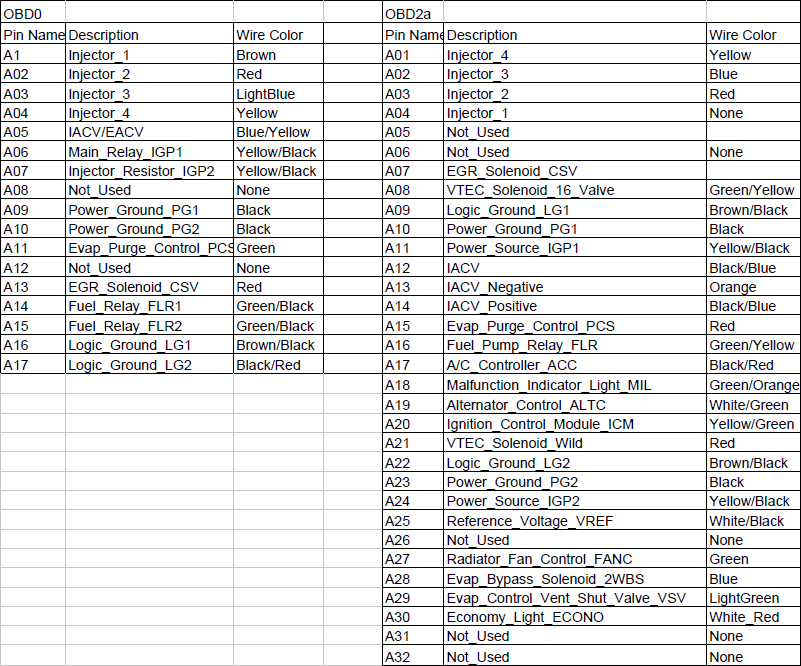 OBD0 and OBD2a Plugs and Wire Color
OBD0 B and OBD2a C Plugs and Wire Color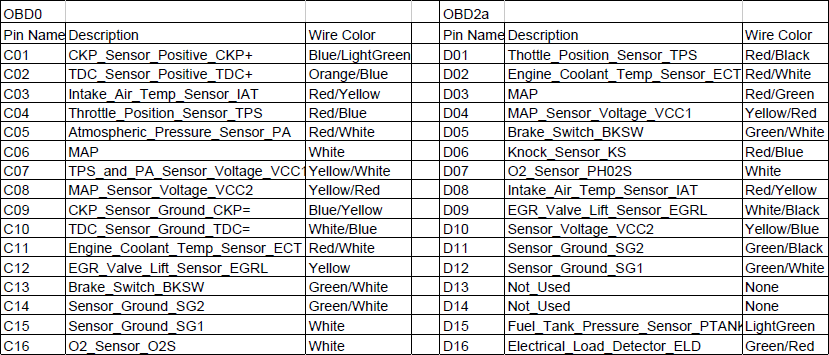 OBD0 C Plugs and OBD2a D Plugs and Wire Color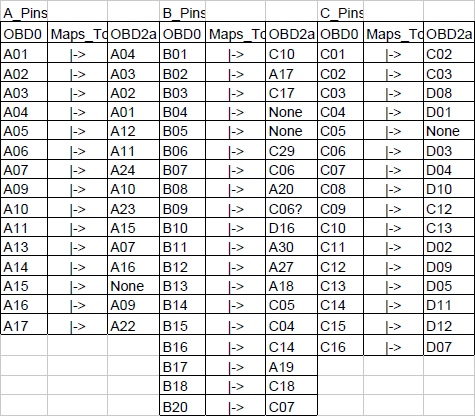 Plug/Wire Correspondence List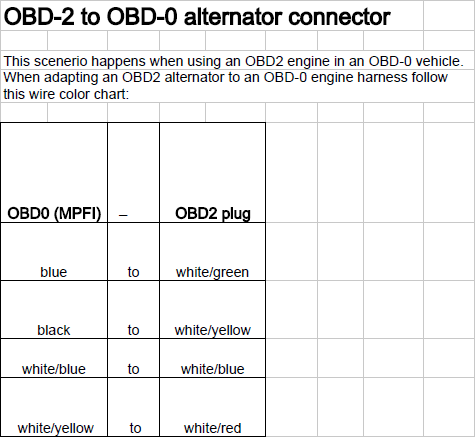 OBD0 and OBD2a Alternator Wire Correspondence.
So for starters, let us look at my diagrams. This is what I used to do my obd0 -> obd2a conversion. The P2J ECU controls more of the logic and accessories than the OBD0 ECUs do, so be prepared to figure out how you are going to wire those things into your chassis. Again, using the now defunct resistor box plugs is a good idea to prevent any non standard wires.
This
thread started by CustomY8 was used as a reference.
88HF
has acted as the scribe and has collected a lot of knowledge that we dug up on d-series and ecomodder. He has compiled PDFs with our findings. Other wiring and hardware information can be found
here
. And now
here
Installing the Engine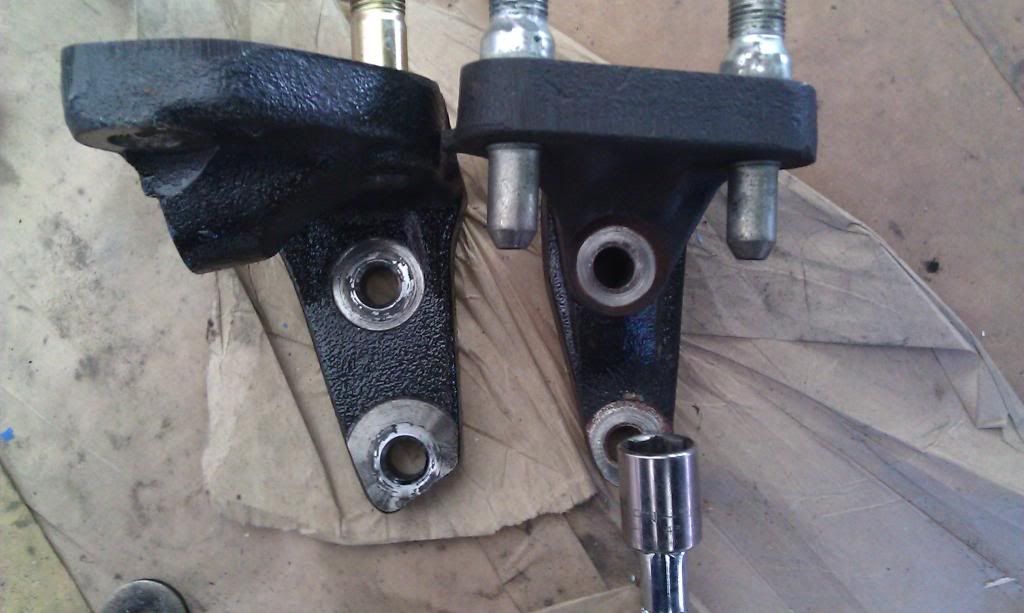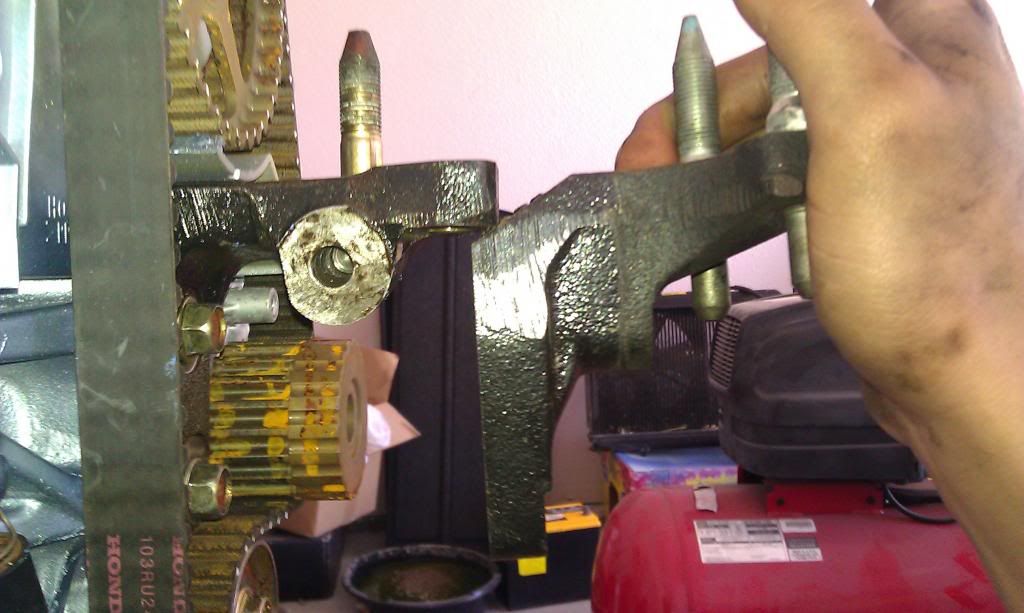 Now if you notice in the picture above, the stock driver's side mount is different in length and design than the one that comes on the CRX. I chose to use the CRX mount on this engine and make any modifications to the timing cover needed to fit it.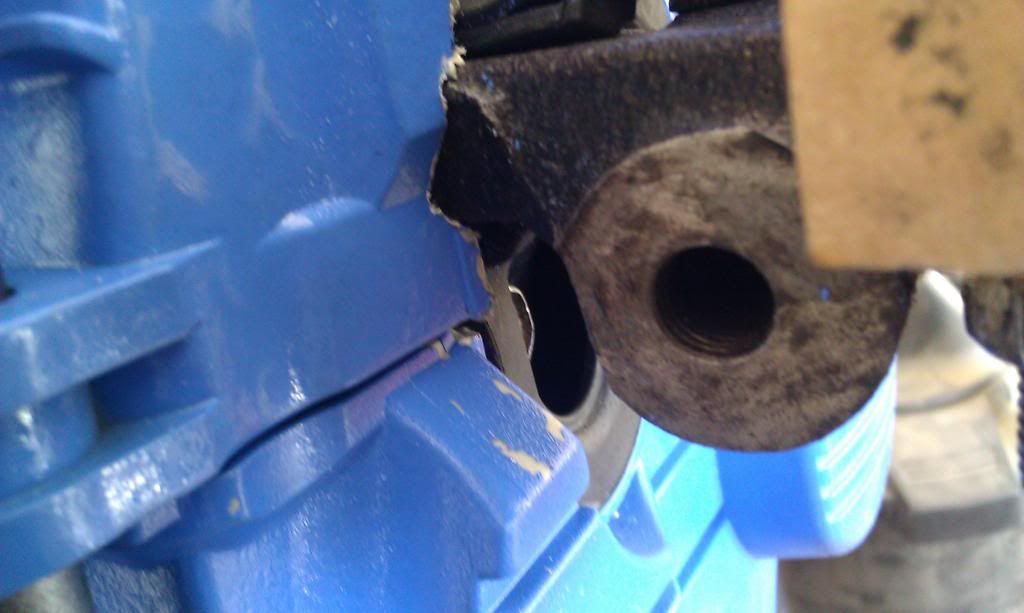 If I had a rotary tool that was worth a damn I could have just notched the engine mount as I attempted to do, but after an hour of trying to cut it and breaking three grinding discs, I said eff it and just cut the timing cover. It's plastic and can be replaced once I get adequate power tools.
The other issue that I had was getting the whole package together. As I took the front end of the car apart, I realized that I had more front end damage than even the body shops thought. My frame was bent and the previous engine held everything squared. No matter which sequence I tried to get the mounts in, one was always off by an eighth (1/8) of an inch. You can see the damage that I am my neighbor created on the driver's mount bracket.
[insert driver's side mount bracket damage]
You can see that we put a hole straight through the mounting bracket.
I also chose to go with "solid" engine mounts for this setup. I used the instructions from this
site
. The car puts more power down to the ground and it also allowed me to use my old mounts that starting to tear and rip. The down side to this is that, since the car is a 4cyl, it shakes between 0 and 1700 RPM. Luckily the car cruises at ~2000.
Things that this ECU does not have
Like most JDM engines, this car does not use a "VTEC Pressure" solenoid. It also does not use an "Absolute Pressure" sensor.
I don't know if this next one is a wiring issue or if it is a "feature" of this ECU, but the engine coolant fans do not come on if the AC is not on. The car has tried to over-heat once while sitting in L.A. traffic. It got to three quarters (3/4) of the way to hot before I noticed this. When I turned on the AC, the coolant fan kicked on with the A/C fan and the coolant temperature began to drop down to a safe level (just below the halfway mark.)
This brings me to another quark. The engine runs just a little bit hotter than the stock HF engine. Yes the stock radiator was designed for the HF specifically and is a little bit smaller than the DX and Si radiators. Maybe since this engine has Lean burn it significantly raises the temps at low RPM. We will find out once I fix the IACV.
Engine Part numbers