Discussion Starter
·
#1
·
Hi everyone, I'm Shorte's cousin, and longtime CRX enthusiast.
I hate to bring bad news here on my first post, but I feel that the more of my friends know about it, the greater my chances are of seeing justice.
The deal is this: My 1991 CRX DX, my beloved Rex, was stolen today from the Best Buy parking lot where I work. Yes, that's right, in broad daylight.
If any of you guys frequent other import message boards, or if you regularly look on eBay for parts and stuff, please keep an eye out for things like a set of limited edition 18" Racing Hart C5 Evos with the gunmetal finish. I also had a JDM ZC hood that I got from Charles last year along with my cousin Dave (Shorte). I'm expecting to either never see it again, or if I do, it almost certainly will be stripped and sitting on cinder blocks.
I intend on getting another CRX someday, and would really like to have my car back to the way it was, so if anybody comes across anything that looks like my parts, please contact me immediately.
Here's how it look(ed).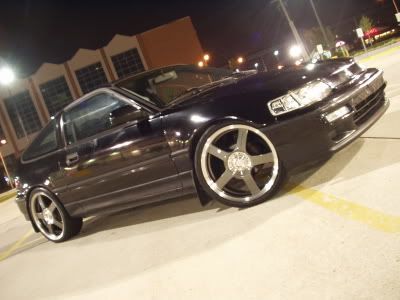 I swear, I feel like my child has been kidnapped.
Thanks in advance. :-/